Sewing with jersey knit: how to do it?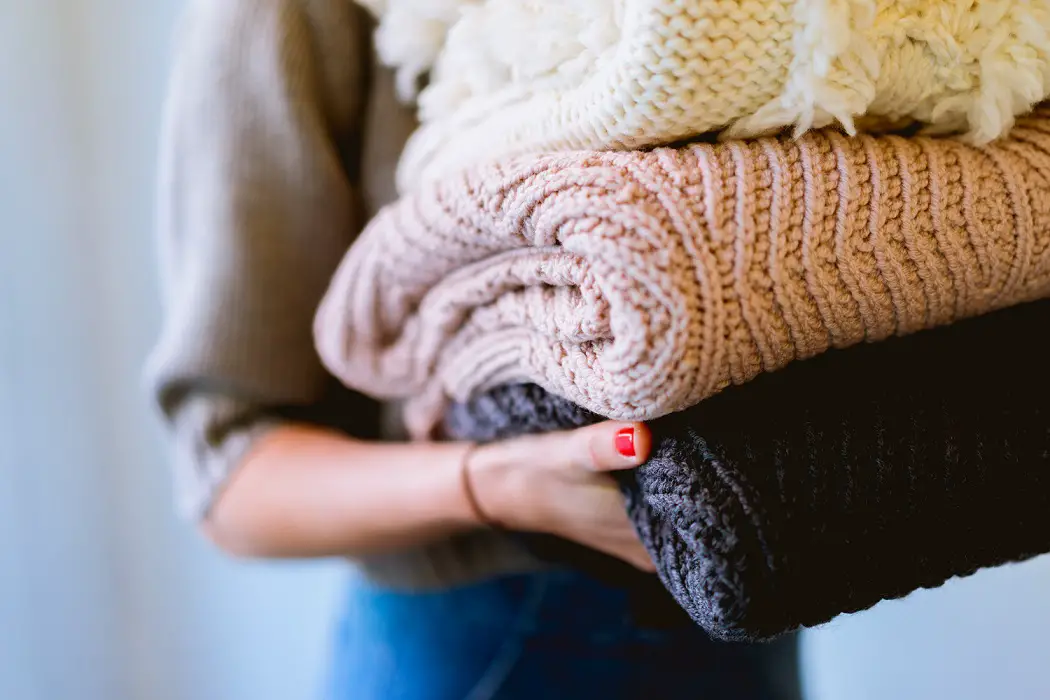 Many who have tried Sewing with jersey knit fabric on a conventional sewing machine have noticed that the machine often refuses to make a beautiful and even stitch. Gaps form in the knitted line, the lower thread winds, and sometimes breaks.
Why is this happening, and how can I fix it? Below you can find the latest tips for sewing.
How to sew knits?
This comfortable and beautiful material is suitable for a wide variety of clothing, both for adults and children. A large selection of knitwear will allow you to choose the fabric of the right quality and price. If you have an overlocker and a sewing machine, you can sew knit fabrics professionally and quickly.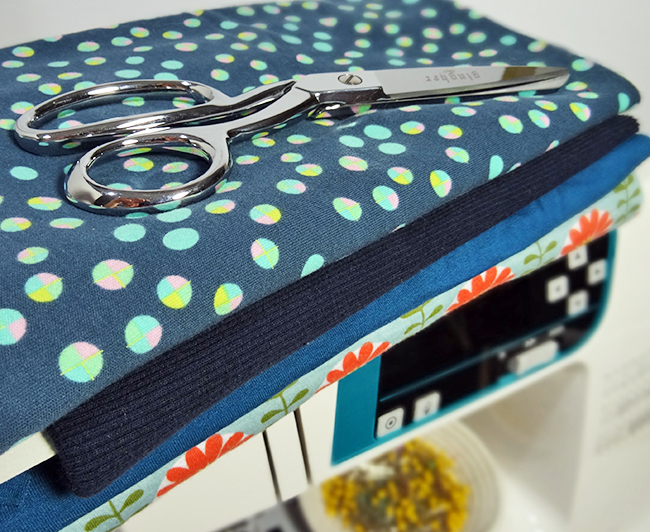 How to sew jersey knit fabric on a regular sewing machine?
We will tell you what tricks and tricks will help you solve this issue. We will help you choose the suitable fabric, talk about the nuances of building a pattern and cutting, as well as care for knitwear.
Types of knit fabrics
The main difference between knit fabric is elasticity and the ability to stretch in length and width. Knit fabric is "connected" with loops: front and back. On the front side of the fabric, the loops are arranged in vertical rows, and on the wrong side, you will see horizontal rows. There are also double-knit fabrics. This is a dense fabric in which vertical rows are on both sides of the material.
Knitwear is made from natural, synthetic and mixed fibres. Cotton jersey is easier both to sew and to care for. This is a fairly durable material at an affordable price. Knitwear made of silk, wool, viscose, or linen requires more attention at all stages of processing.
In general, knitwear made from natural fibres is more comfortable to wear than synthetic: it is breathable and does not electrify. Knitwear made of mixed fibres retains the comfort of natural fabric, but it is less wrinkled and more durable. However, the such fabric is prone to the formation of "pellets."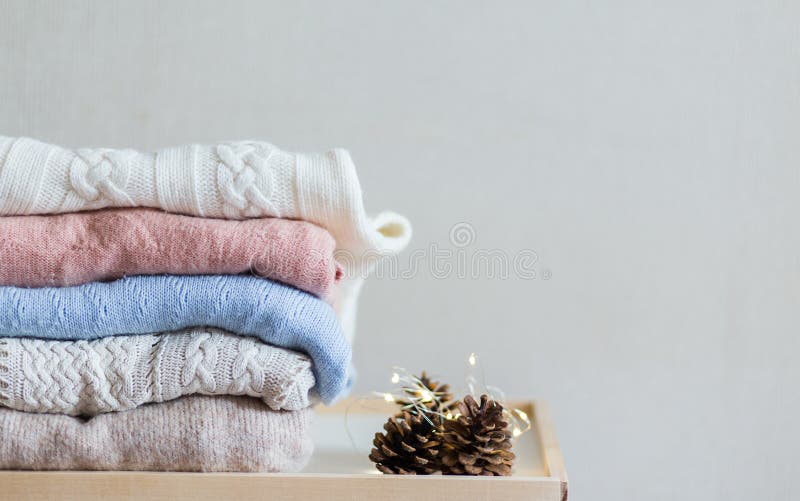 Below you will find some useful descriptions of the most popular varieties of knit fabrics.
Jersey is a versatile fabric of different densities. This is a single jersey for shirts and dresses, also used for tailoring. Jersey knit fabric has almost no stretch in length.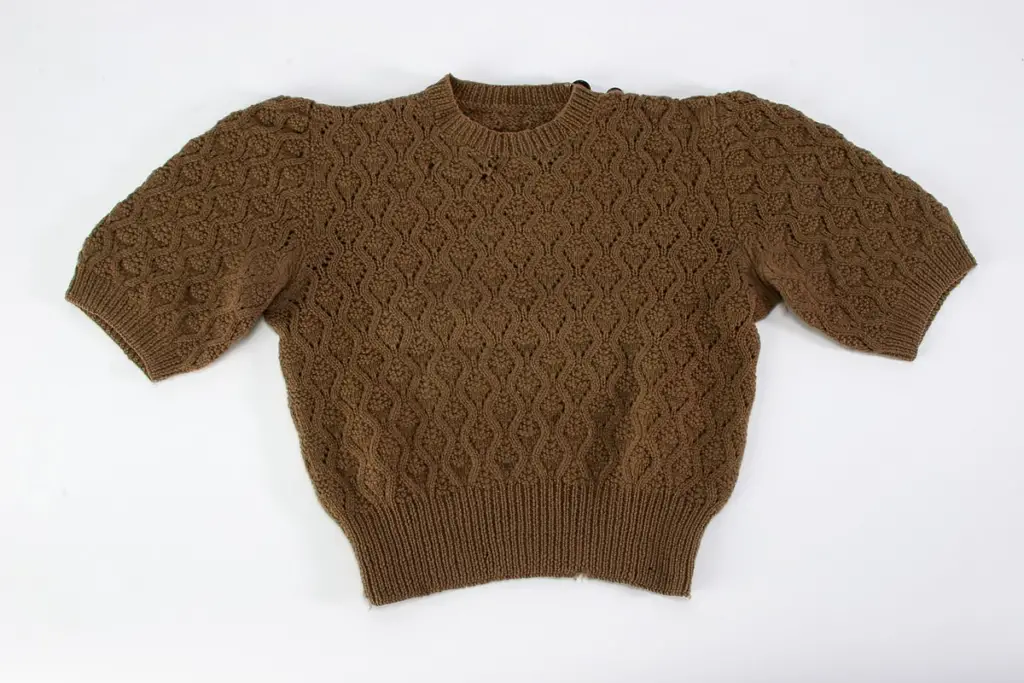 Sweatshirt – cotton jersey with the pile, which is located on the wrong side. This is a sportswear fabric with a simple cut.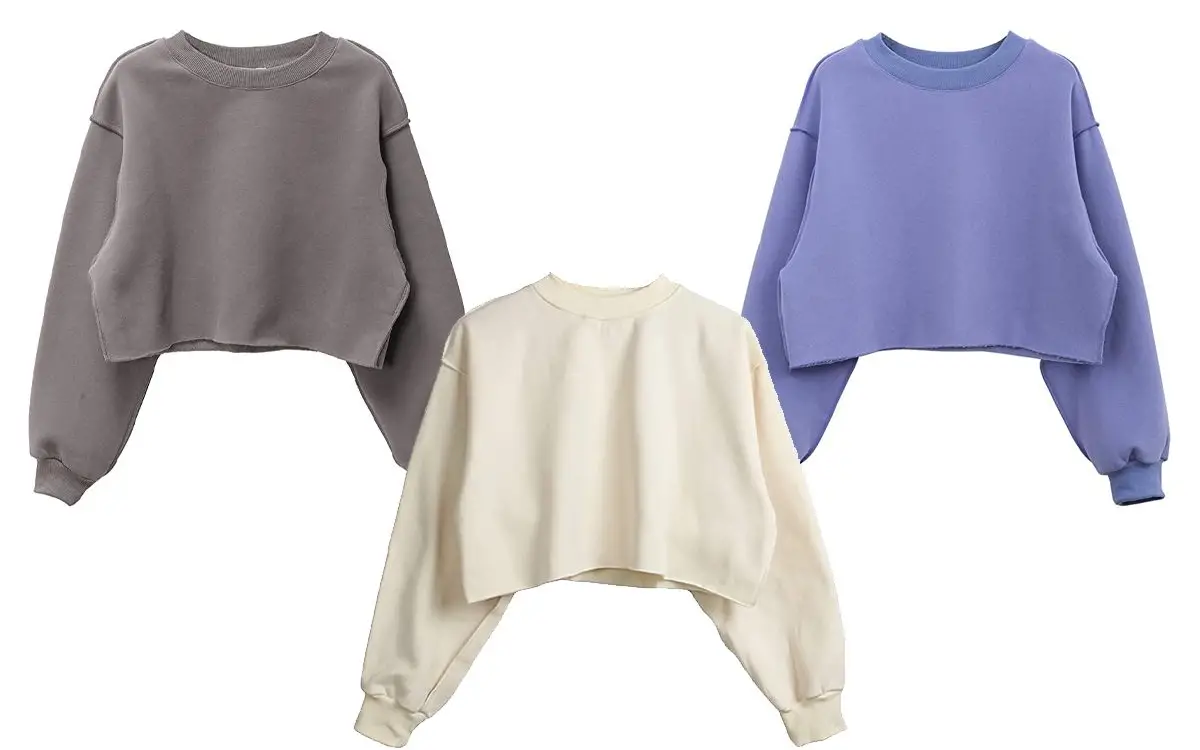 "Elastic band" (or "noodles") – dense knitwear with pronounced "pigtails" on both sides. The "elastic band" stretches well and is used for turning cuts of armholes, necklines, and cuffs. In addition, dresses, turtlenecks, and pullovers of adjacent silhouettes are sewn from the "elastic band."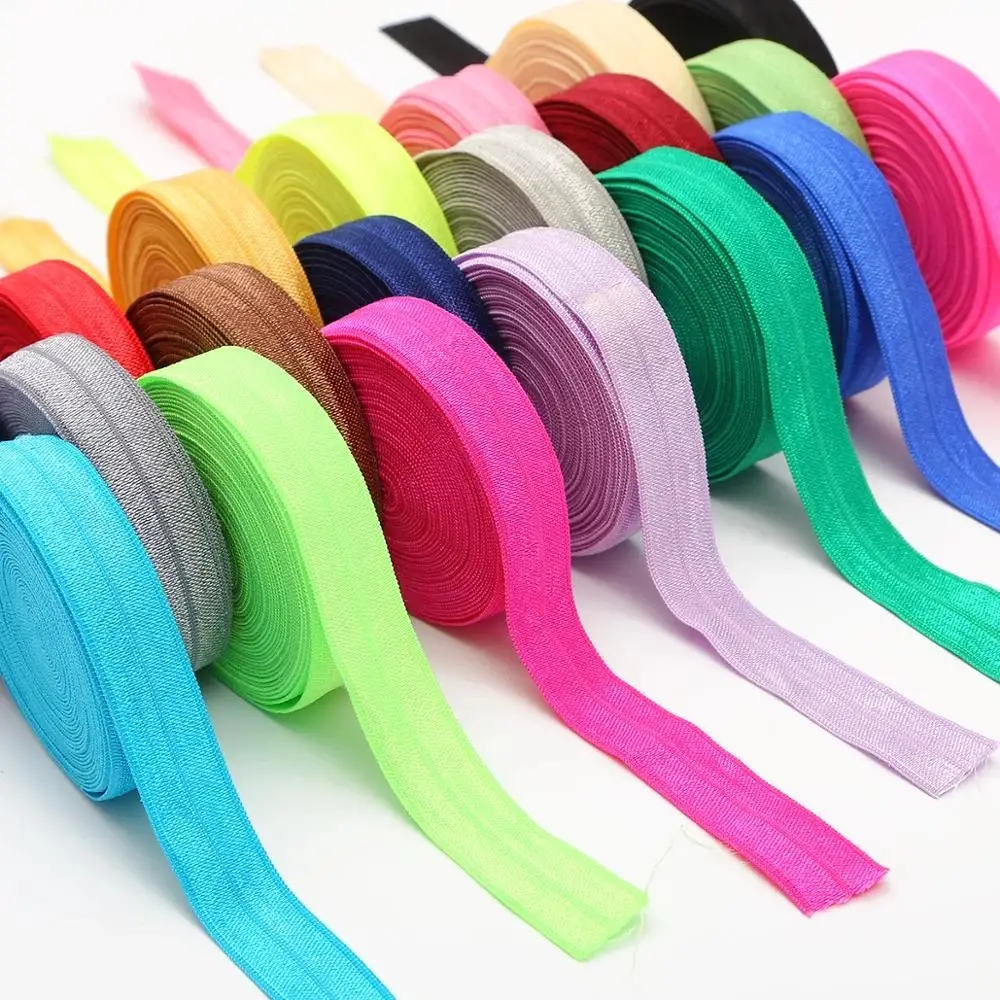 The interlock also has facial rows on both sides. This is a lightweight knit that does not stretch much in width. Interlock is used for sewing T-shirts and blouses, sportswear, sleepwear, and underwear.
The Stretch jersey is made from highly elastic spandex, thanks to which it stretches in all directions. It may also contain cotton, nylon, and polyester fibres. These stretch fabrics are perfect for tight-fitting swimsuits, leggings, etc.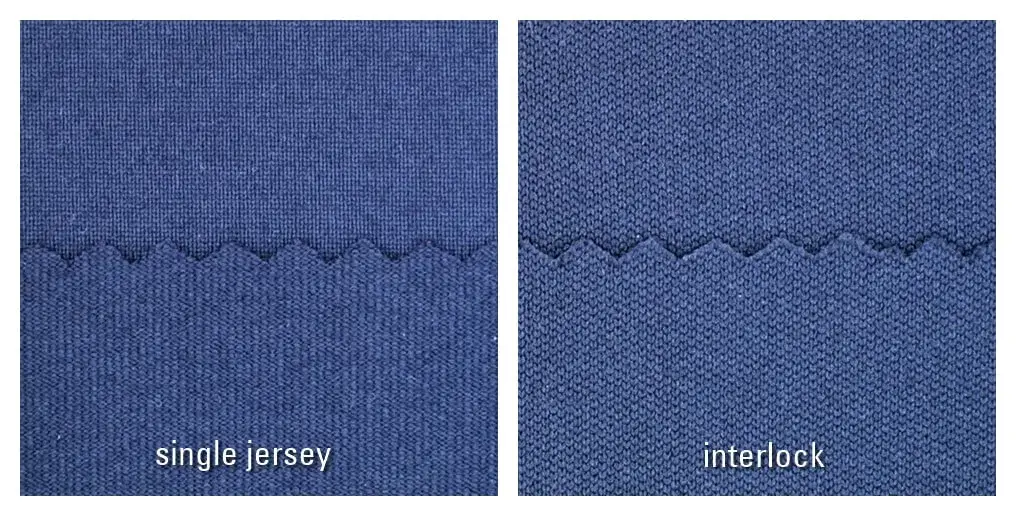 Tensile coefficient of knit fabrics
Different types of knit fabrics stretch differently. This must be taken into account when constructing a sewing pattern. If you chose a pattern from a magazine, the desired percentage of elasticity (stretch the fabric) should be indicated in the description.
The easiest way is to buy the same jersey fabrics, otherwise, you will need to find out the value of the new stretch fabric when buying. This information may be on the price tag, but be prepared to calculate the stretch factor yourself.

To do this, measure a 10 cm segment on the jersey knit fabric, stepping back from the jersey knit fabric cut about 7 cm. Take the segment from both sides, stretch it and attach it to a ruler or centimetre. Note the resulting size.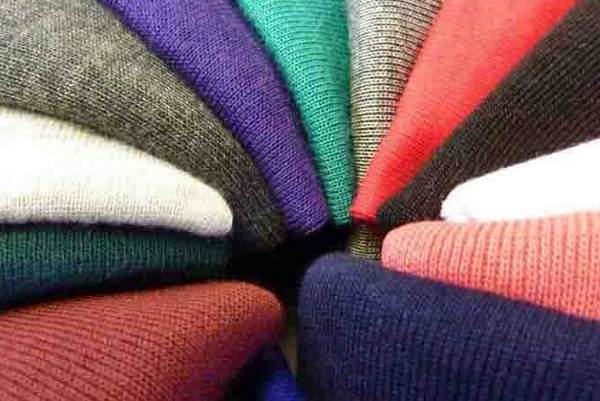 If the woven fabric has stretched to 15 cm or more, it is knitwear with high elasticity (from 50%). If the fabric is stretched to 13 cm, it is a medium-stretch jersey (30%). If the jersey knit fabric has stretched to 12 cm or less, it is a knit with low elasticity (up to 12%).

Building a pattern for knit fabrics
The values ​​of the coefficient of extensibility can be ignored if you are going to sew a three-dimensional model of a free silhouette. With sewing knit fabrics of tight-fitting patterns, the higher the percentage of elasticity, the narrower the pattern should be. For example, if the stretch fabric is 30%, then the measurements for the chest, waist and hips need to be reduced by this percentage.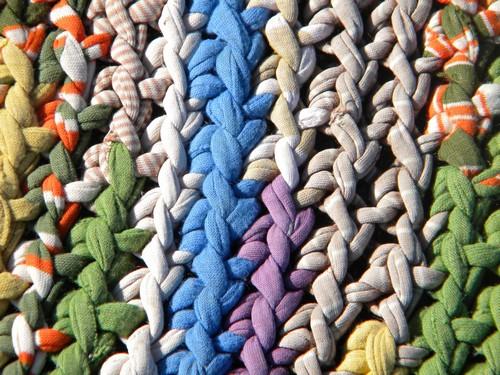 However, for a better fit at hip level, we recommend reducing your hip circumference measurements by only half a factor, or not at all. Then the skirt or dress will not ride up when moving. In addition, in models of a tight-fitting silhouette, please note that when the fabric is stretched in width, it is somewhat shortened in length.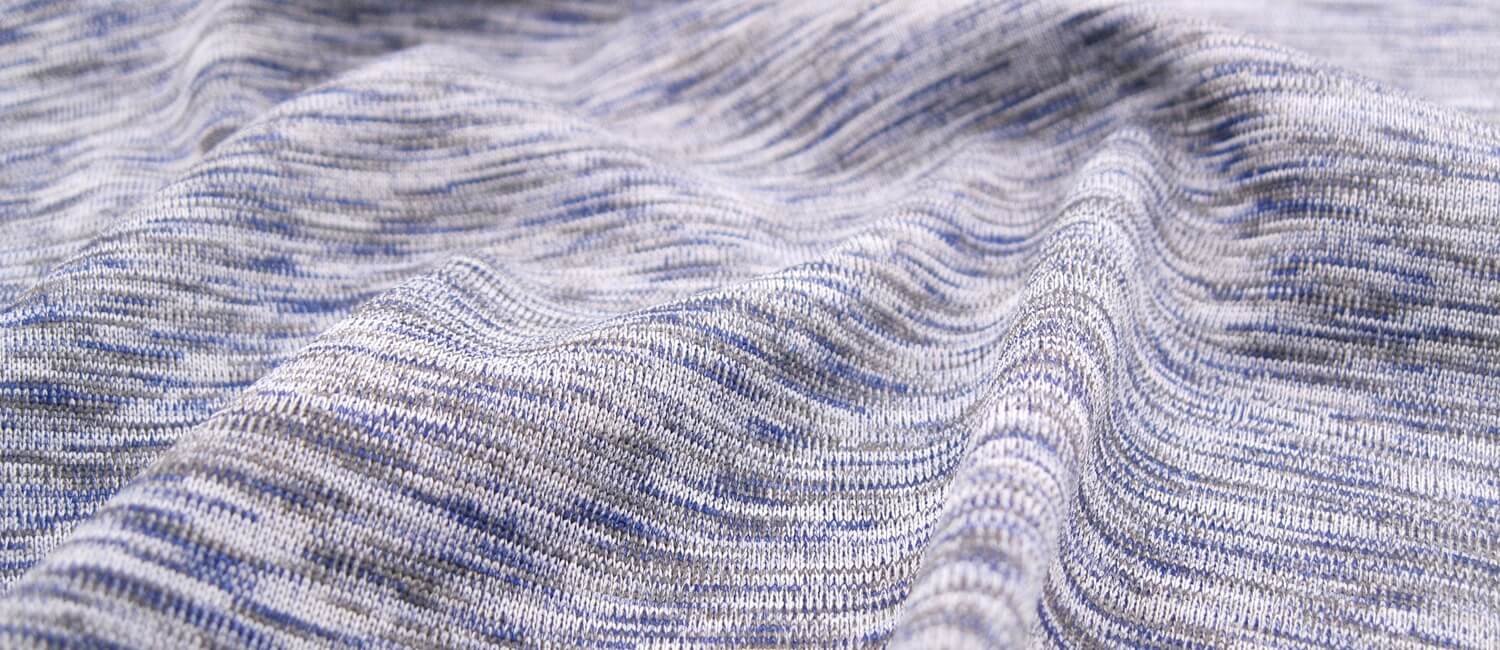 The percentage of elasticity must also be taken into account when modeling the neckline and armholes. For fabric with an elasticity of 50% or more, draw these cutouts with less depth.
After the first fitting, you will be able to adjust the contours of the cutouts more accurately. Fitted models made of jersey knit fabrics with high elasticity do not need darts and allowances for a loose fit.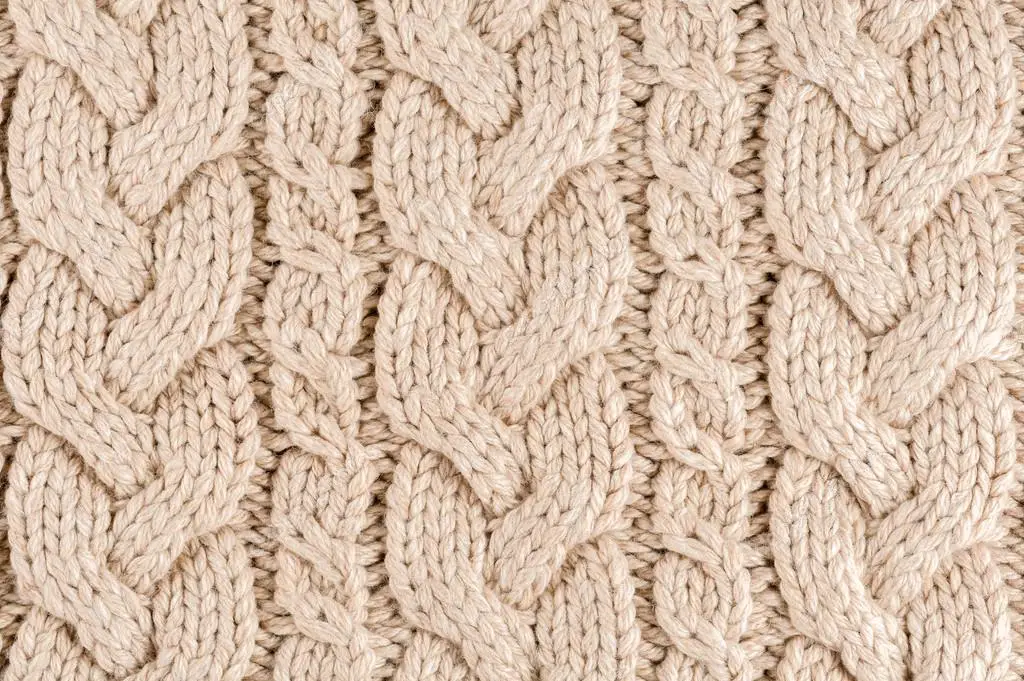 Preparing knit fabrics for cutting
If your jersey fabrics contain natural fibres, you will need to decatecate. Soak it in warm water and then gently dry it unfolded. Jersey knit fabric is best washed two or three times, as it can shrink many times.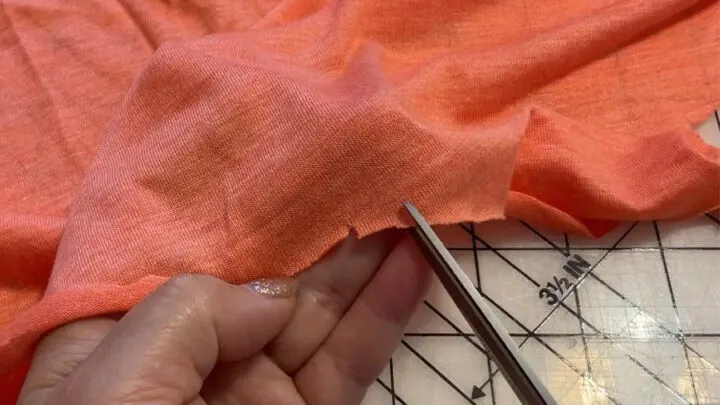 Cutting knit fabric
If your knit fabric slips on a smooth surface, lay it out on a thin blanket or other soft fabric. Cut out the details in one layer.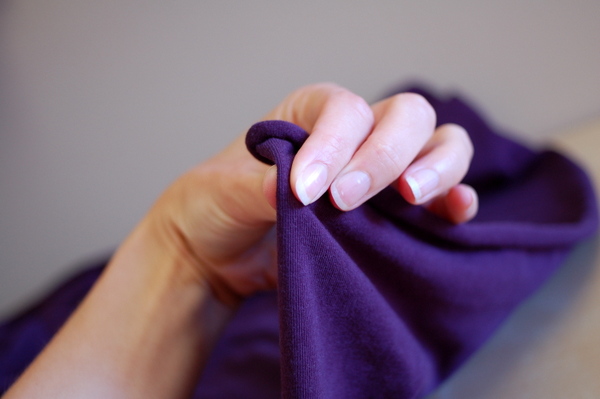 The direction of the shared thread corresponds to the vertical rows of eyelets on the front side of the knitwear. Arrange the pieces in the same direction, as the knitted weave may show a change in color depending on the angle of view.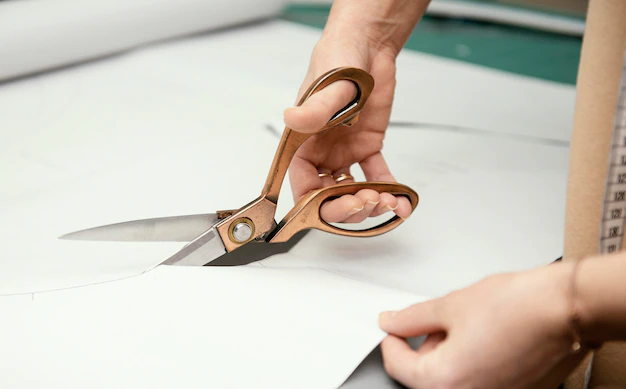 Make sure that the fabric does not hang from the work surface, otherwise the direction of the lobar may shift.
Ball point needles and bobbin thread
One of the main components of success is the right choice of twin ball point needles for sewing knitwear. There are two types of ballpoint needles that are used to sew different types of knitwear:
Twin needles "Jersey" are suitable for working with voluminous tight-knit knitwear.
Stretch needles are designed for thin elastic fabrics: the tip of such stretch needles has a rounded shape and does not tear knit fibers. Choose high-quality threads with a smooth surface, polyester or nylon for work.
Be sure to try different options for twin needle and thread on jersey knit fabrics to find the best needle size, zig zag stitch, etc.
How to sew knitwear?
If you have an overlock, then all you need to do is adjust the thread tension for a beautiful and stretch stitch. It will take much longer to select stitch settings on a conventional sewing machine.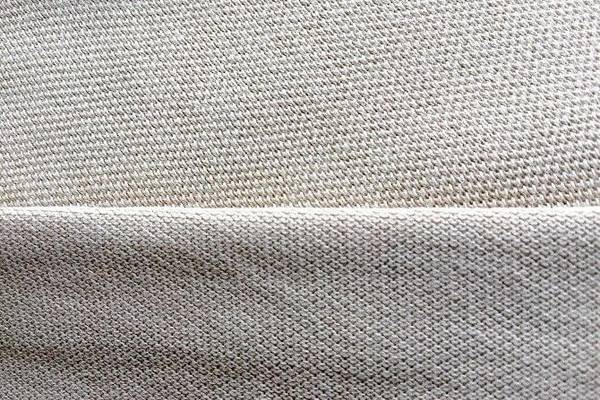 Try different variations of stretch stitch on scrap fabric, such as regular straight stitch, narrow zig zag stitch, triple stretch stitch, skipped stitches, or straight stitching. After that, choose the most accurate option. Study the instructions for your sewing machine, perhaps in the range of stitches offered there is also a special stretch stitch.
Try stitching the details with a zigzag seam, with a small stitch width (up to 1 mm). If the sewing machine skips stitches, try placing thin paper (cigarette, newsprint, wrapping paper, paper towel) under the fabric. After the stitching is completed, the paper should be removed.
Stretch the fabric slightly when sewing knitwear with a slight degree of elasticity. Check the seam for elasticity. Pull the sample firmly and determine whether the break is on the bobbin thread or the top thread.
It is necessary to adjust the thread tension so that there is no break or both the upper and lower threads break in one place. Knitwear with a high degree of elasticity is the most difficult to sew.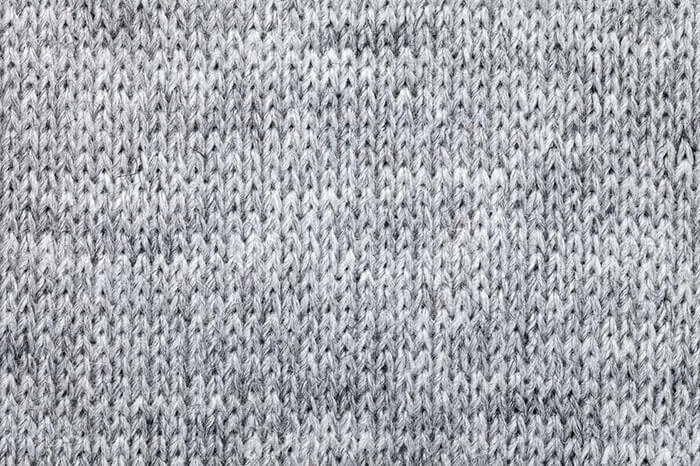 If you can't set up a stretch stitch, try starching the place of the line with a brush, let it dry and sew. You can also use special water-soluble strengthening materials.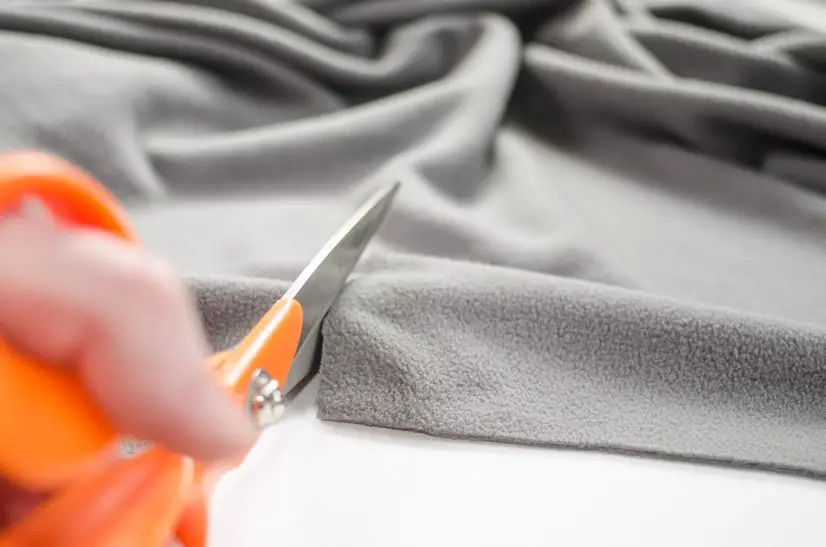 The nuances of seam processing
Some types of seams must be stabilized to avoid stretching: for example, shoulder seams. For this purpose, you can use a strip of adhesive cushioning material or knitted tape inserted into the seam.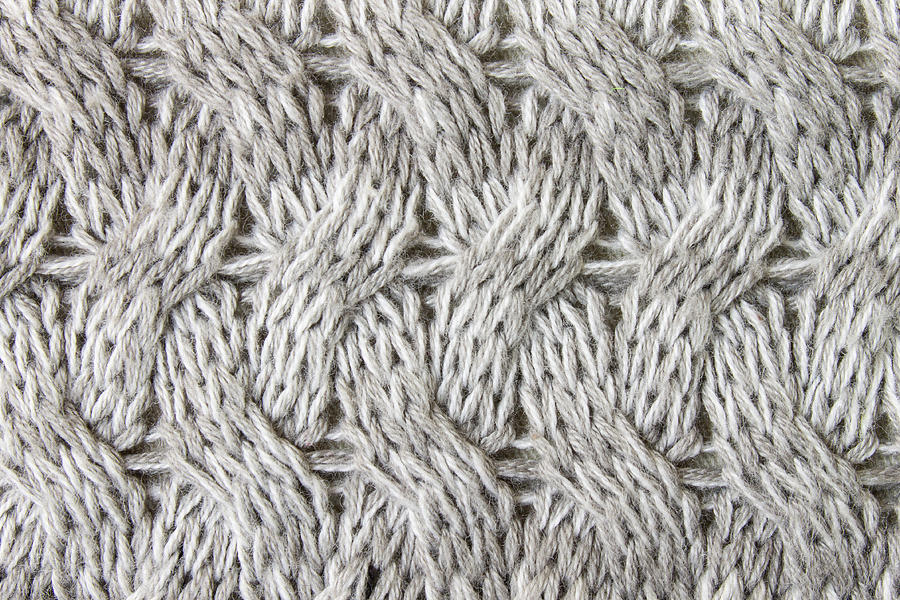 It is also necessary to strengthen the sections of the knitwear before sewing in the zipper (for example, in sportswear). The processing of the bottom of the product and the sleeves is an important stage in the tailoring of knitwear. A sewing machine is used to professionally process these parts.

On a conventional sewing machine, try several processing options. It is most similar to a sewing machine – a twin needle line. You can also overcast the cut with a zigzag, tuck it to the wrong side and hem it by hand.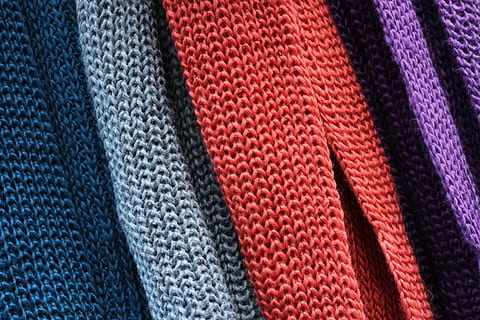 To keep the seam elastic, do not pull the thread tight. You can also process the bottom with an edging from a finishing fabric or a strip of the base material folded in half.

Knitwear care
The composition of the fabric determines the temperature of the iron! Iron cotton or linen knit fabrics at high temperature, woolen or viscose at moderate temperature, knit fabric from synthetics at low temperature. Be sure to try it on a piece of fabric!
To prevent the fabric from stretching, iron in the direction of the facial "pigtails" along the share. Iron the fabric from the wrong side, after smoothing the fabric with your hand.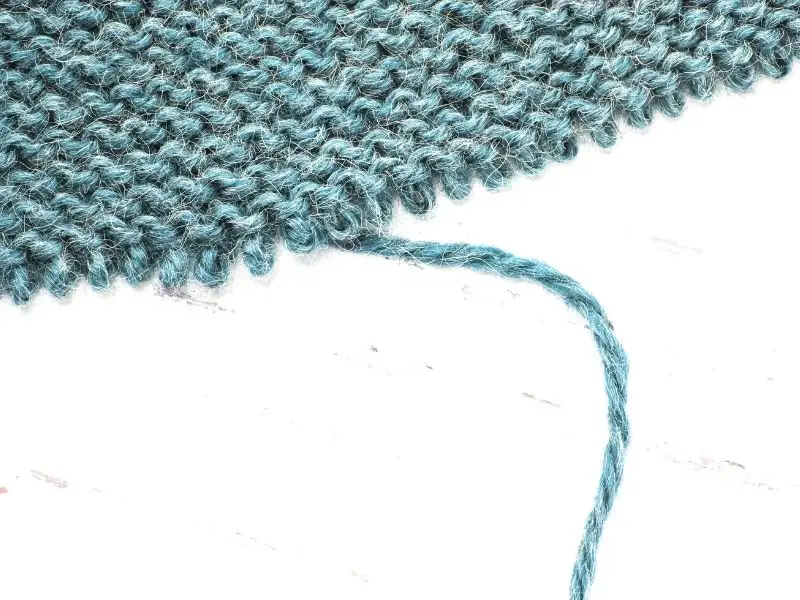 Washing knit fabric also depends on the composition of the fabric. Wash knitwear made from mixed or synthetic fibers on a delicate cycle or by hand. Choose special detergents for washing.
Wash polyester jersey fabrics at 40-60 degrees. Expensive woolen or silk knitwear can be dry-cleaned or washed by hand with delicate products.
Gently wring out the fabric (do not twist) and lay out on a towel to dry. To remove the pellets, use a special machine that carefully cuts them off the surface of the fabric. Store jersey knit fabric clothes folded in the closet, the fabric may stretch on a hanger.
Tricks of sewing with jersey knit on a conventional sewing machine
Firstly, for sewing with jersey knit, a special knitting machine is used, it is called a flat-seam machine – a cover stitch machine or a chain stitch machine. The seam on her reverse side looks like a "pigtail". Look at any T-shirt factory processing and you will be convinced of this.
Secondly, for stitching knit fabrics cuts, a knitted overlock is used, which has a differential (stretch fabric) rail with simultaneous laying of a stitching chain stitch.
And thirdly, special needles and threads are used for sewing knitwear. The last point is decisive for your sewing machine, so let's figure out what kind of needle you need to sew knitwear, what threads you need to use to get a quality stitch, and consider other factors that affect the quality of a regular straight stitch.
Stretch needle for sewing jersey knit fabric
There are many reasons that affect the quality of the formed stitch when sewing knit fabrics. One of them is an incorrectly selected twin needle. Universal needles, which are most often used on sewing machines, are not suitable for sewing jersey.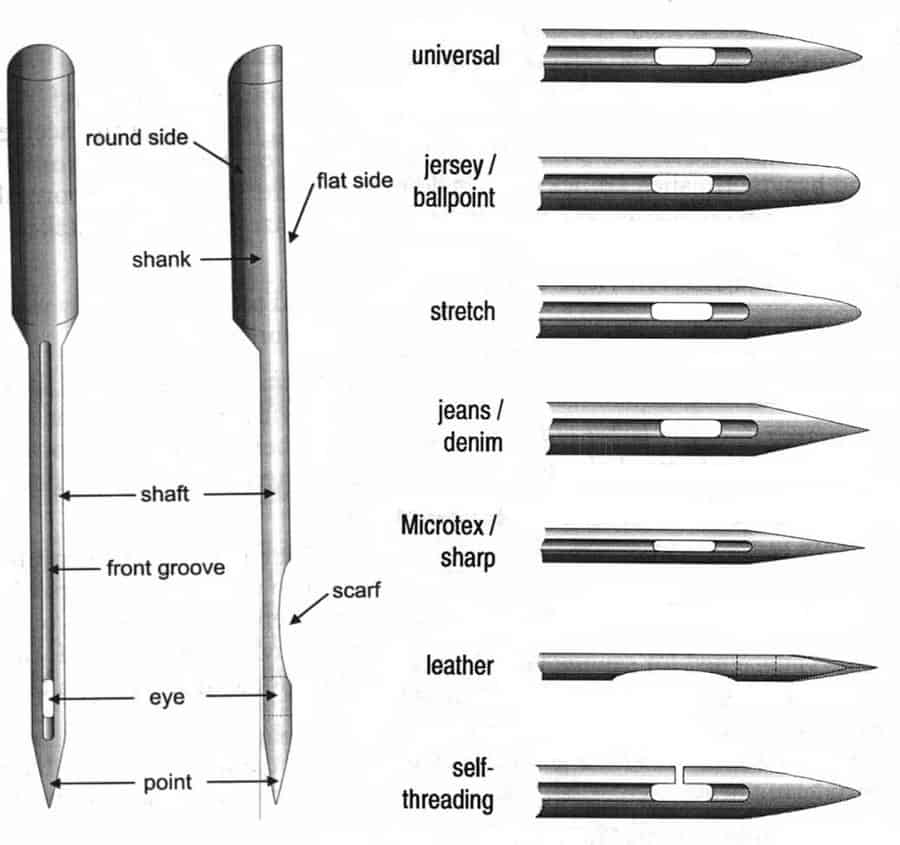 Not only can the sharp edge of the ballpoint needles damage the weave of the knitted fabric, but it can also cause a too small loop near the eye of the needle. And the nose of the hook just passes by it without grabbing the upper thread. As a result, gaps appear.
Replace the universal needle with a special twin needle with a rounded point designed for sewing such fabrics. A needle with such a point does not pierce the fibers of knitwear, but passes between them and creates better conditions for the formation of a loop.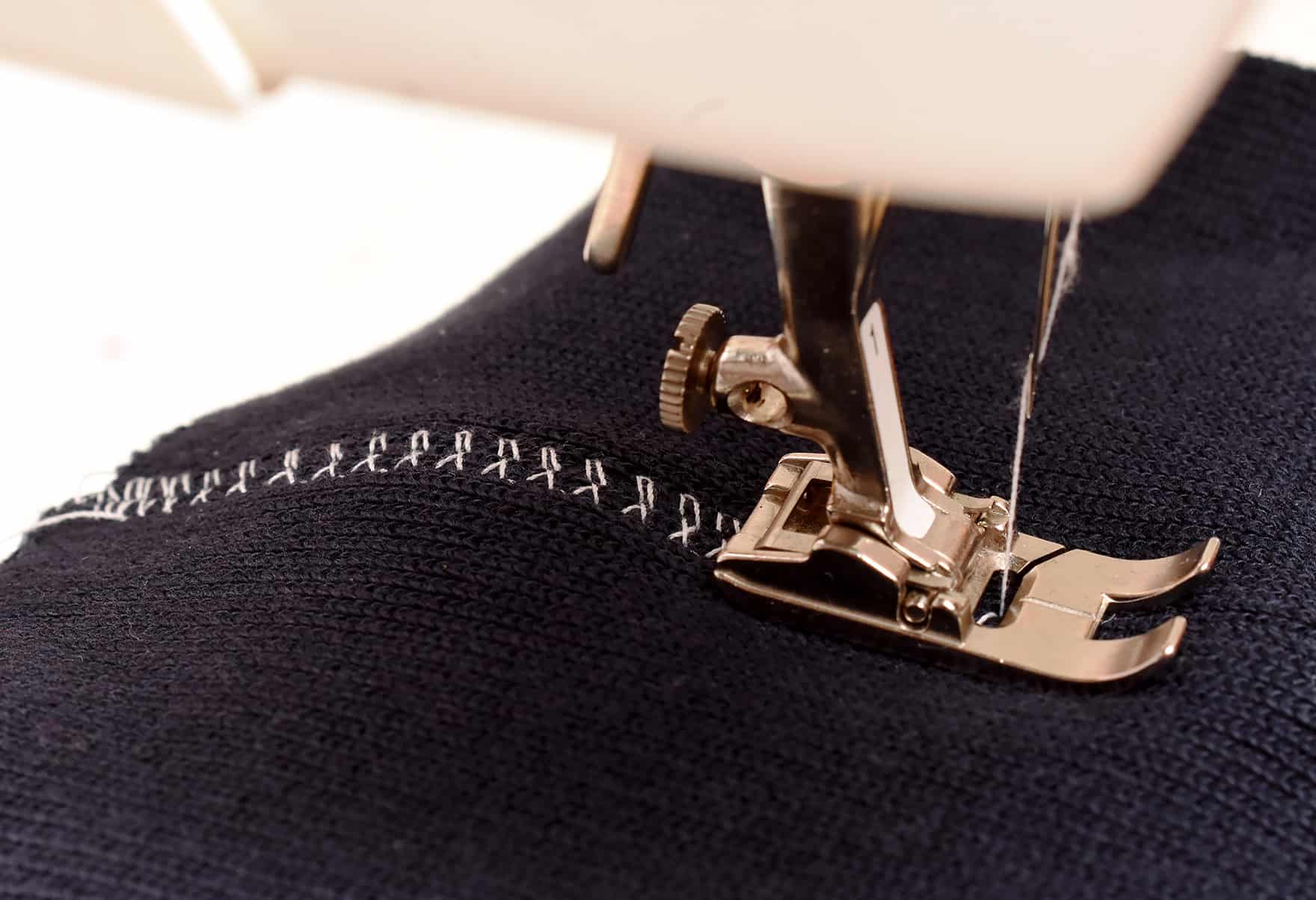 On the package with such needles is the inscription "Jersy", and "ball point" means that the needles have a rounded point.
However, you should be aware that buying a package of special knitted twin needles does not always solve the problem, especially for old-style sewing machines. There are a number of other factors, which will be discussed below.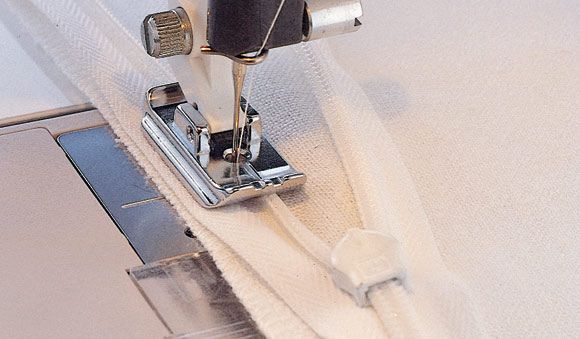 Threads for jersey fabrics and their tension
No straight stitch machine can sew knitwear without complications. Stretch stitch machine knitwear is a test that not all sewing machines pass.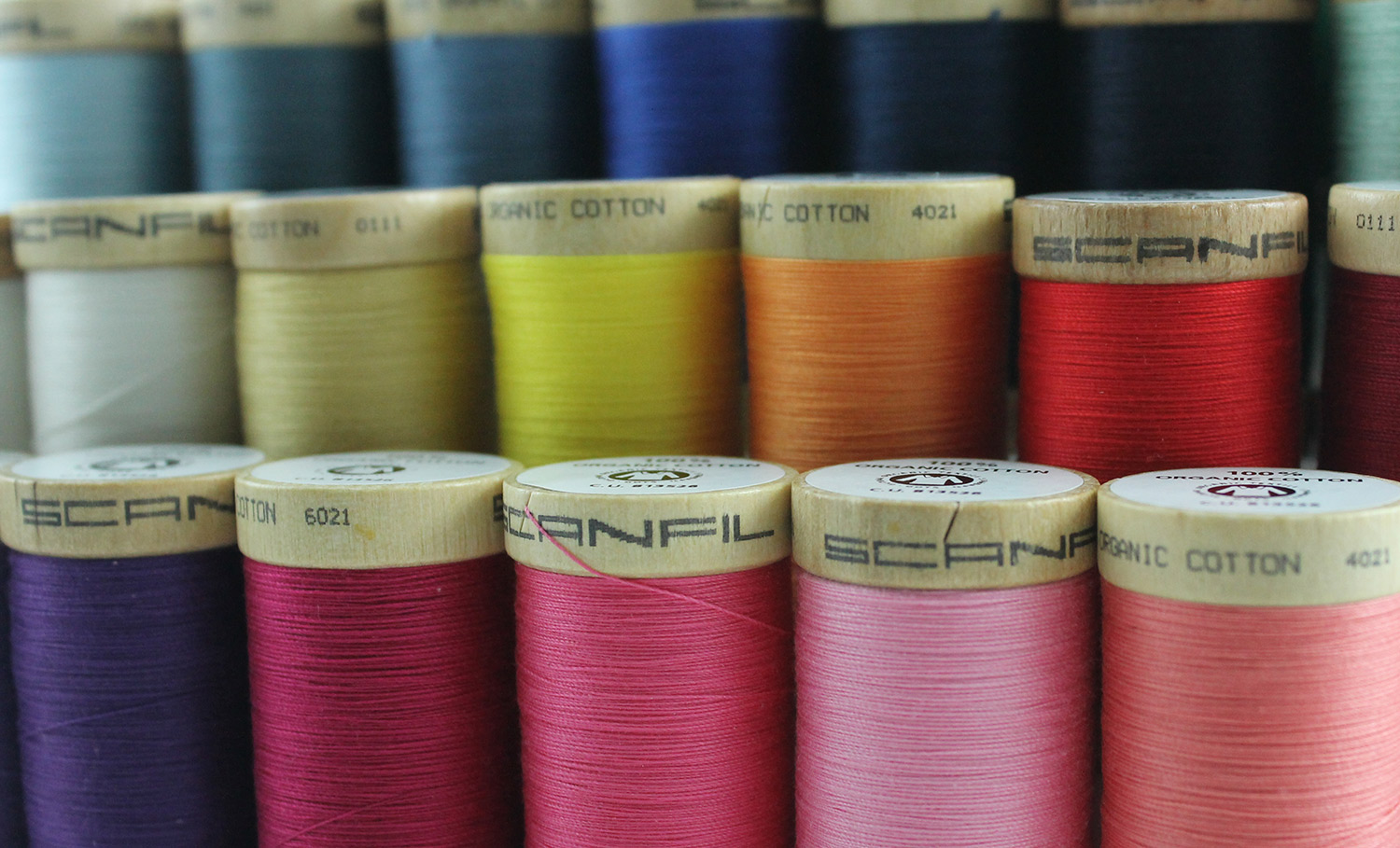 True, modern household machines are quite capable of this task, subject to certain requirements. As you already understood, one of them is a needle, which has a slightly rounded tip, high-quality thread and its correct tension.
Sewing threads should be thin, elastic and strong. Basically, all types of modern threads available for sale in the store correspond to these parameters. But, nevertheless, you need to empirically determine which type of thread is best for your typewriter.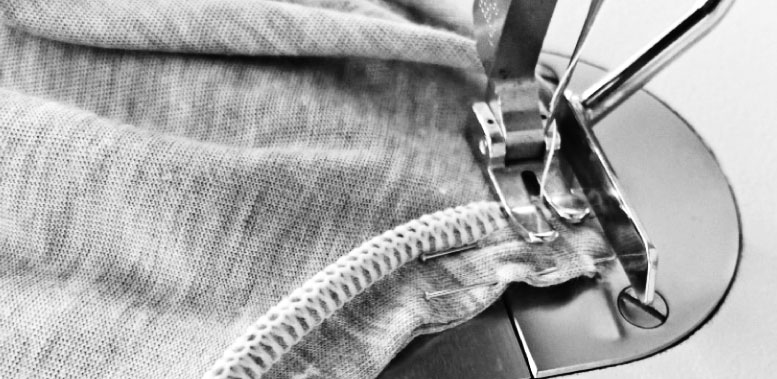 Naturally, it is worth abandoning the finishing thick threads, and even more so about the threads from the grandmother's old stocks. Ideally, tapered large bobbins are suitable for sewing knitwear, but since they are quite expensive, use thread on small spools.
Before sew knits, you need to correctly adjust the tension of the upper and lower threads.
Usually the thread should not be adjusted, but when sewing with jersey knit, this often eliminates thread slippage in the stitch. If the slip at the bottom does not stop when pulling the top thread, then try to slightly loosen the tension of the bottom thread.
Please note that when you seam parts from viscose jersey, the stitching will be looser in one direction (usually across). It is not possible to eliminate this effect with the help of tension.
It's just that lightweight knit stretches under the influence of the foot and the teeth of the rail, and then takes on its previous shape and the stitches are loosened. By the way, the presser foot pressure must also be adjusted.
To eliminate this, stabilizers (pads) are used, including pre-cut strips from a newspaper. A paper strip is laid under the fabric, and then gently pulled out of the seam. By the way, often just such a method can eliminate gaps in the line in some types of sewing machine.
But, of course, this is too extravagant a way, which is undesirable to use. If you replaced the ballpoint needles and picked up the threads, adjusted the tension, and the slip and skips did not disappear, then you need to adjust the sewing machine. But only an experienced craftsman can set up jersey knit fabrics for sewing.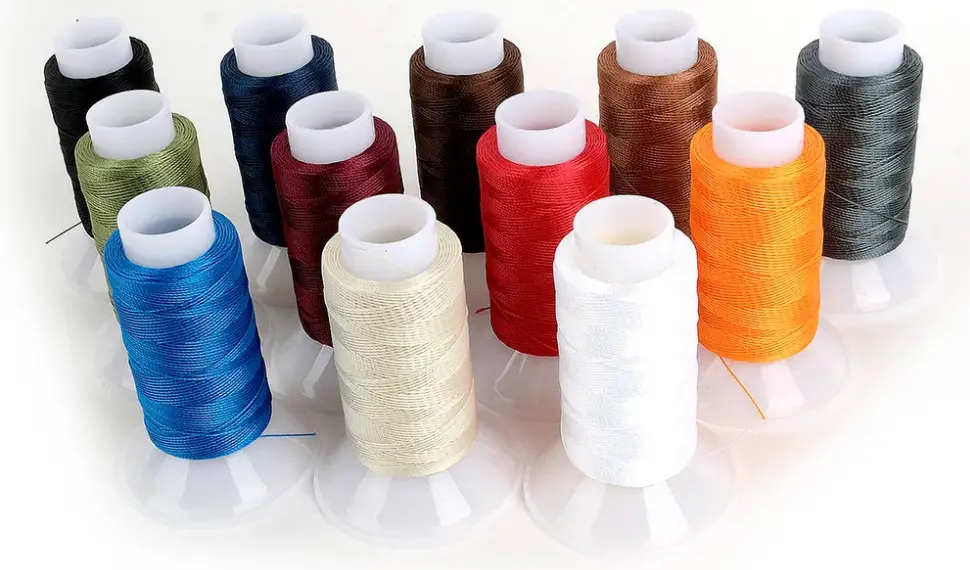 What is the difference between knitted overlock
Almost all modern household overlocks are knitted overlocks. The main difference between a knitted overlock and a regular one is that a knitted overlock has a special rail device (teeth under the foot).
During operation, the rail specifically compresses (stretches) the knit jersey fabric, and after stitching, the fabric stretches (pulls) back. As a result, the seam is tensile and withstands more tensile stress.
For example, if you sew knitted fabric on a regular machine, and at the same time tighten the thread tension strongly to eliminate slack in the line, you will get a very beautiful stitch, but not strong. Stretch this area with your hands, and your beautiful seam will simply burst. This is the main purpose of knitting machines – to perform an elastic and stretchable seam.
Overlockers with a differential rail and walking foot can sew not only knit fabrics. This feature can be easily turned off using a special knob. And even, on the contrary, you can "force" the rail to collect jersey fabric.
You need to know that overlocks of older models, including overlocks of class 51, cannot process knit fabrics with high quality. And don't be surprised if the joining seams of knitwear, processed only with a three-thread overlock, burst over time.
Other reasons why the machine does not sew knit fabric
Some older sewing machines often refuse to sew knit fabrics at all. And even the master cannot always set it up for sewing jersey fabrics.
If you want to test the work of a sewing machine repairman, ask him to sew a piece of the most difficult to use knit jersey fabric at the end of the job. If the line does not even have one gap, then this is a very experienced master.
Older machines have a different adjustment of the interaction between the stretch needle and the shuttle nose. After all, in those days when they were released, no one suspected that such fabrics would be used all the time. Therefore, modern machines are set up for sewing rib knits, and old machines need to be reconfigured.
Knitted jersey – how to use for sewing
Knit jersey – a ready-made fabric from loops. This distinguishes it from woven fabric: it is woven from several systems of threads, and knitwear is knitted. Thus, it does not consist of threads and a warp, but of looped rows and columns.
Hence the main feature: it stretches. Clothing can be without darts (even fitted). Then why do some stores use the term "knitwear" if it applies to the entire category? It seemed like a mistake! But it's a little more complicated.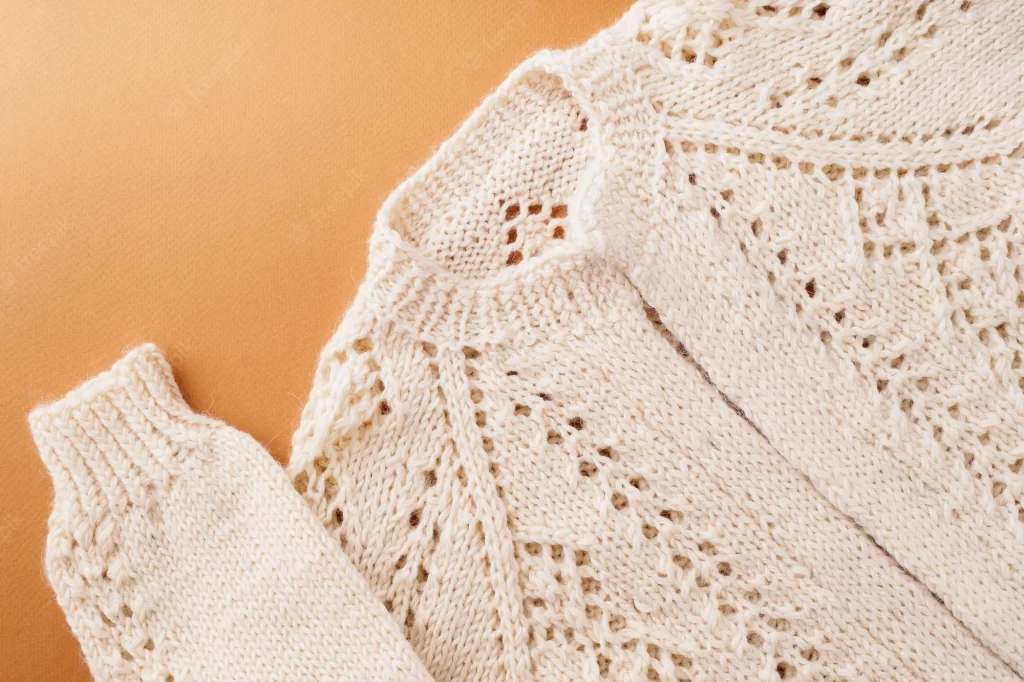 How it all started
Jersey knit – a warp knit group – consists of many threads – therefore it almost does not unravel. Such material differs in extensibility, density, thickness, and composition. Today, manufacturing companies offer textured options that are outwardly indistinguishable from hand knitting. It is them, emphasizing characteristic appearance, called knitted.
What is knit jersey like?
It is conditionally divided into several large categories:
Large knitting is not a boring classic. Very large weave.
Gum ("noodles") – by analogy with the famous knitting pattern. Embossed vertical stripes.
Braids – large three-dimensional patterns. Schemes have the form of bundles, chains, rhombuses and "braids".
Angorka – quite smooth, but the weaves are still clearly visible. On the surface, delicate villi – underfur.
Boucle – granular weave interspersed with heterogeneous knots.
Bonding — two-layer, with a dense basis. The top layer is openwork.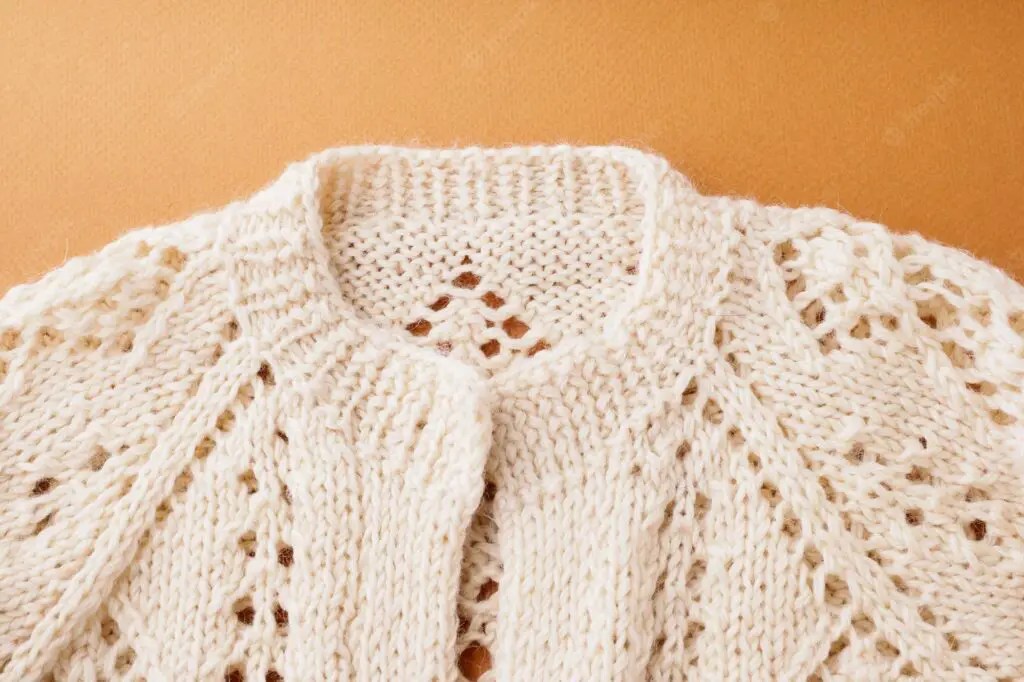 Compound
The first knit jersey fabric appeared in the Middle Ages and was 100% wool. Over time, the composition has changed became mixed. Today, natural, synthetic and artificial fibers are used in different percentages.
Wool is obtained by shearing sheep. Things are warm and hygroscopic: they are comfortable and not stuffy; they don't wrinkle. Disadvantages: shrinks after washing, stretches.
The finished product quickly wears out where friction is most intense: near the elbow, in the hips, on the shoulder – under the handbag strap. Such material is characterized by high cost and the need for careful maintenance.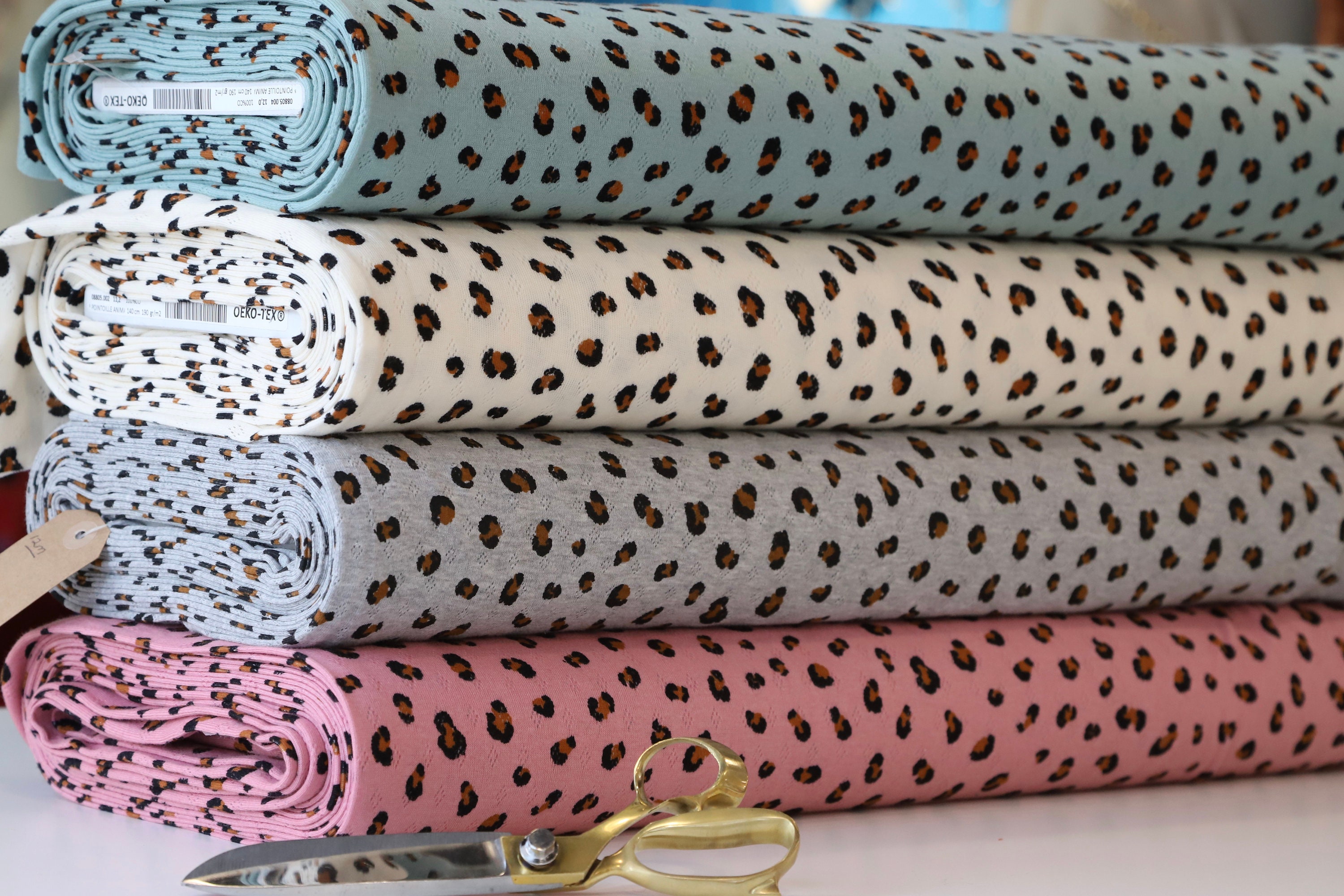 Polyester
A synthetic fiber around which many myths have formed. It is believed that it does not breathe and causes allergies. Of course, polyester is also different. However, high-quality polyester in the composition has a positive effect on the properties of the material. It does not wrinkle, does not stretch, does not deform during wear, has a long service life and is resistant to rolling. That is why manufacturers often mix polyester with natural fibers.
Acrylic
Acrylic yarn is light, fluffy, and soft. It weighs less, which is especially important for thick and dense textiles. Acrylic is sometimes referred to as "artificial wool".
Unfortunately, in terms of hygroscopicity and warmth, it loses to its natural counterpart. But it is used when you need a gentle "undercoat" on the surface and increased softness.
Viscose
Artificial environmentally friendly fiber from wood pulp. Good in the off-season or in winter if you regularly move from indoors to outdoors and back. Thermoregulator: in cold weather it warms, in hot weather it "cools" the body.
Pleasant to the touch and like cotton in that it breathes and absorbs moisture. Light clothing options are suitable for the summer period.
Elastane, lycra and spandex
High elasticity rubber threads. 2-5% is added to textiles to make it more stretchy (stretch effect). However, a significant part of knitwear stretches even without it: due to the structure.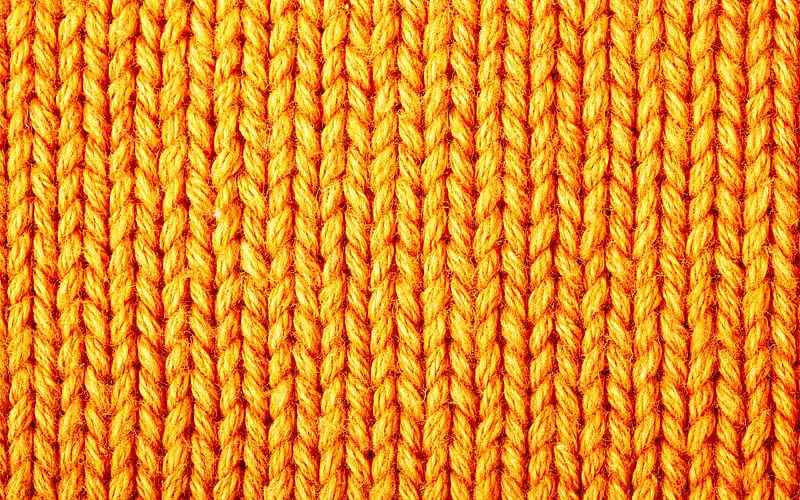 What to sew?
Everything! From children's T-shirts to men's pullovers and women's jackets. Knitted jersey knit fabric is used in free silhouettes, straight lines, "according to the figure". Used for basic wardrobe: sheath dress, cardigans, skirts, turtlenecks with stocking collar.
Suitable dense options of medium thickness: PILLOW, Nice, Fest. Viscose gum has proven itself: Pleasant, COZY. Tight sexy things are sewn from especially elastic options.
Fashionable walking suits in a sporty style are sewn from dense polyester jersey. They usually consist of soft trousers and a sweatshirt with a raglan sleeve or a sweatshirt with a hood.
Angora and braids are great for jumpers and sweaters. Heavy bonding and boucle are suitable for interesting wraps and capes. They may be coats.
Separately, we note lightweight silk: plain and with a pattern. It flows, allows you to model beautiful draperies. It is often ordered to sew universal things with a one-piece sleeve: a blouse, a blouse, a top. Knee-length tunics are especially popular.
This category of material is able to satisfy any request: a dress for a girl, light home sets, a smart casual jacket, etc. The choice of model depends on the plastic properties of jersey knit, its composition, and also on what season you plan to wear the item.
Is it possible to sew without an overlocker?
Many experienced craftsmen easily sew knit fabrics without overcasting machine. It is only necessary to choose the right processing mode: a sewing machine is suitable for electric or manual.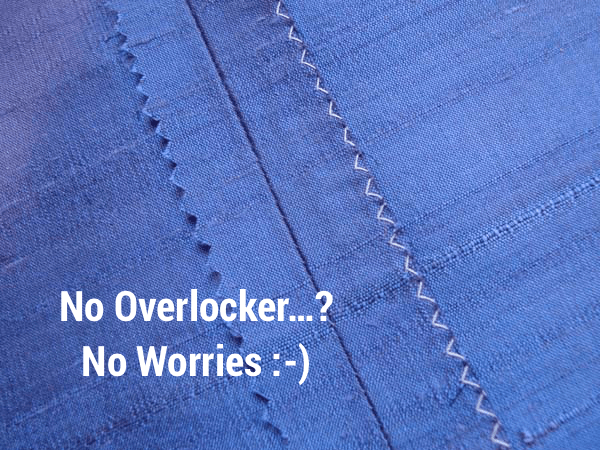 Knitted twin needle is distinguished by a rounded, non-sharp tip. These do not pierce the threads, destroying them, but carefully push them apart. Due to this, "arrows" are not formed.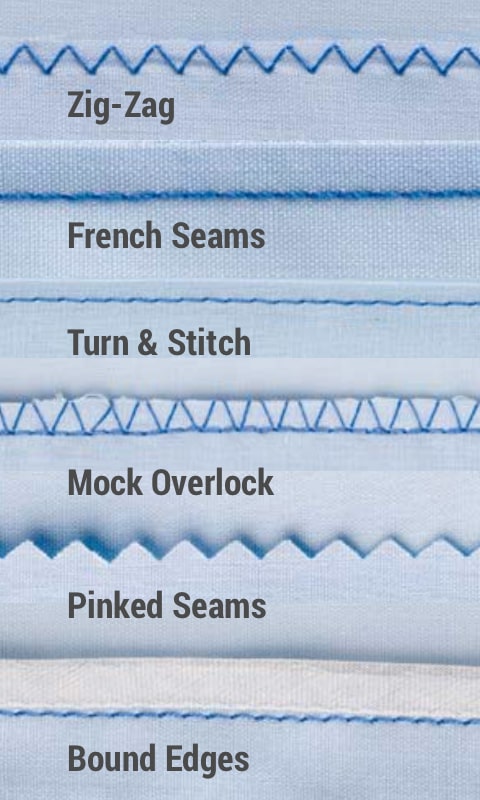 Twin needle makes two lines at the same time (face), which form a zigzag from the inside. Runs on two coils. Also, walking foot is useful for the bottom of the product. Fortunately, walking foot installs on any device.
With walking foot, both layers move at the same speed. It is not needed if, before assembly, you qualitatively sweep with a regular needle and thread. The hardest thing to sew is super tight, very stretchy fabrics.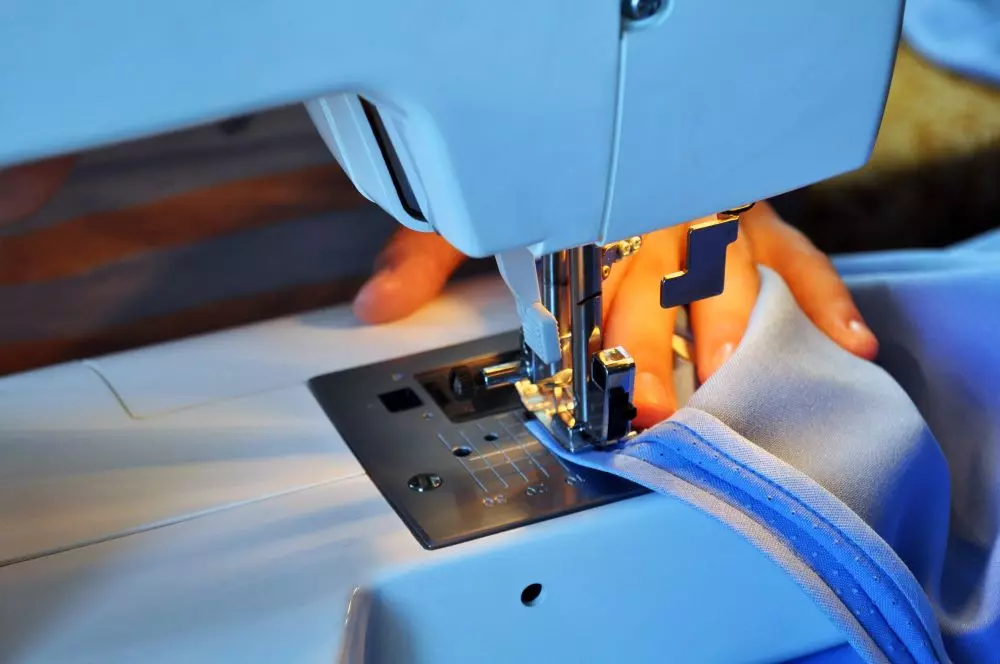 So that the seam does not burst when worn, it must be as elastic as the material itself. For the rest, a regular machine stitch and twin needle will do.
Stretch the canvas lightly with your hands as you sew. Before sewing, be sure to check the adjusted stitch on a rough piece of material with which you plan to work!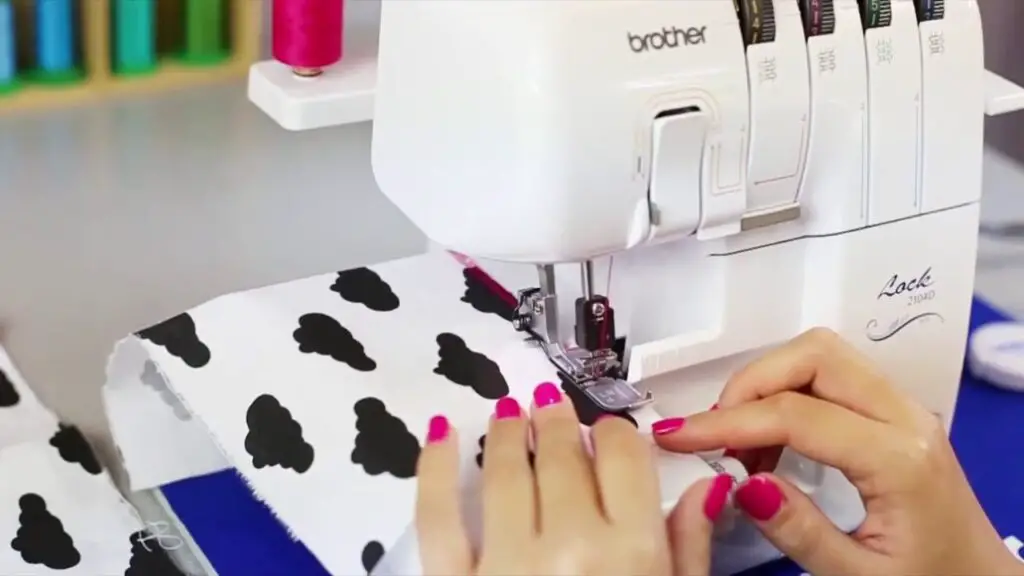 The nuances of sewing jersey technology
To properly process jersey knit fabric in all areas, you need to know their features. Shoulder products have five sections: side and shoulder seams, neck, armhole, bottom.
The side seams are the easiest to handle. They are located parallel to the loop posts (in the case of fabric, we would say "along the share"), therefore, they do not stretch. If the stretchy fabric is bi-stretch – it stretches both along the loop rows and along the columns – then the seams must be "fixed", otherwise the thing will very quickly lose its shape.
To do this, they must either be glued, or a seam should be laid with tape and stitched over. For greater accuracy, we recommend sewing seams manually.
The shoulder seams are always stabilized so that they do not pull. After all, they are located across the columns and, therefore, strive to crawl away. In both cases, it is better to strengthen the seams from the side of the shelf, ironing towards the back.
When processing the bottom, it is important to maintain optimal tension, otherwise you will get a wave. Otherwise, you can improvise:
sew knit by hand with a seam (hem 2-4 cm);
work the cut with a zigzag, then sew knits with a straight line. If necessary, the seam is stabilized;
sew jersey with twin needle (hem 4 cm);
edging with knitted trim (buy ready-made or cut out yourself).
Determine if the neck needs to expand during use. If, when putting on, the head should pass freely, then this is not necessary and even harmful. And vice versa: for a golf collar, the ability to stretch is necessarily retained. In the first case, the site is strengthened: with an inelastic stitch, adhesive, inlay from non-stretch woven fabrics.
If the neckline is wide, it is recommended to sew a narrow ribbon at the top back neckline, edge to edge. The tape here is a limiter that does not allow the jacket or dress to slip off the shoulders.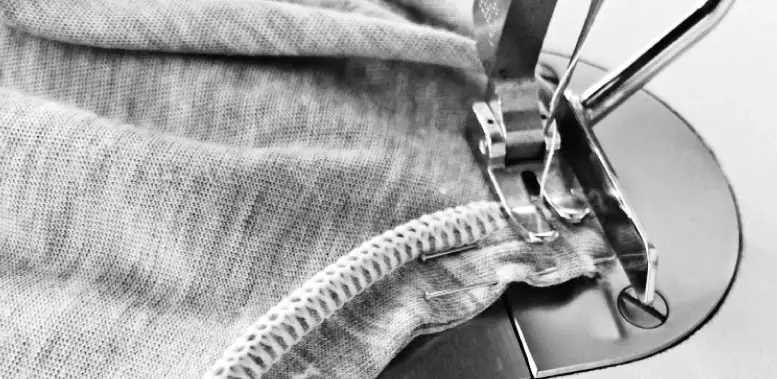 Useful tips for sewing are endless. In the process of working with a 3- or 4-thread overlock, a silicone tape can be used as a reinforcing agent. To stretch the neck, it is processed with an overlock.
If it is not at home, you can contact the studio: they will do it there for a modest fee – much less than what they charge for tailoring a whole product. But you can do it yourself: twin needle. Or lay a zig zag – all modern cars have it – and pre-fold it by 1.5 cm.
Pattern for jersey knit fabrics
Beginning craftsmen can find a pattern for many products for free, for example, an asymmetrical tunic dress with a round notch. It has an extremely simple construction, designing is quick and easy.
A huge plus of the style is that it opens up scope for modeling. You are free to make a very short blouse, lengthen it, change the configuration of the hem, create a sundress.
However, if the individual version is very long, it is more correct to abandon the asymmetry. The main advantage: two parts that are easy to cut.
Choose dense uniform Nice, HYGGE. It is pleasant to deal with them: they are obedient when cutting, resilient; do not crumble and do not bloom. The design is better without prints: pastel and basic (black, gray, beige) shades, slightly textured.
Download the measurement chart and build your own pattern thanks to tips for sewing. All you need is a domestic sewing machine. Please note that you must read the sewing machine manual before operation.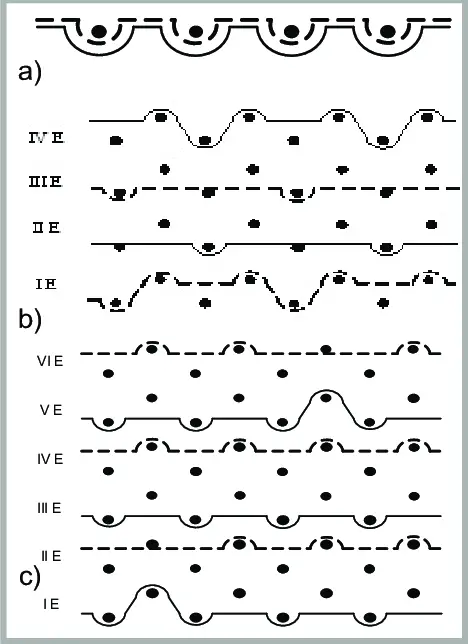 What is jersey fabric?
Jersey fabric began to be made from the wool of local goats that lived on the island. Initially, this fabric stretch was not very popular. It was mainly used for sewing underwear. No one could even imagine that in many years jersey knit fabric would be noticed by fashion designers and become the most demanded stretchy fabric for the podium.
The history of jersey knit is directly related to the name of the legendary designer Coco Chanel, who accidentally spotted this fabric stretch and presented to the public an unsurpassed collection of clothes that simply blew up the podiums of all countries. Since then, stretch fabrics have become very popular among clothing manufacturers.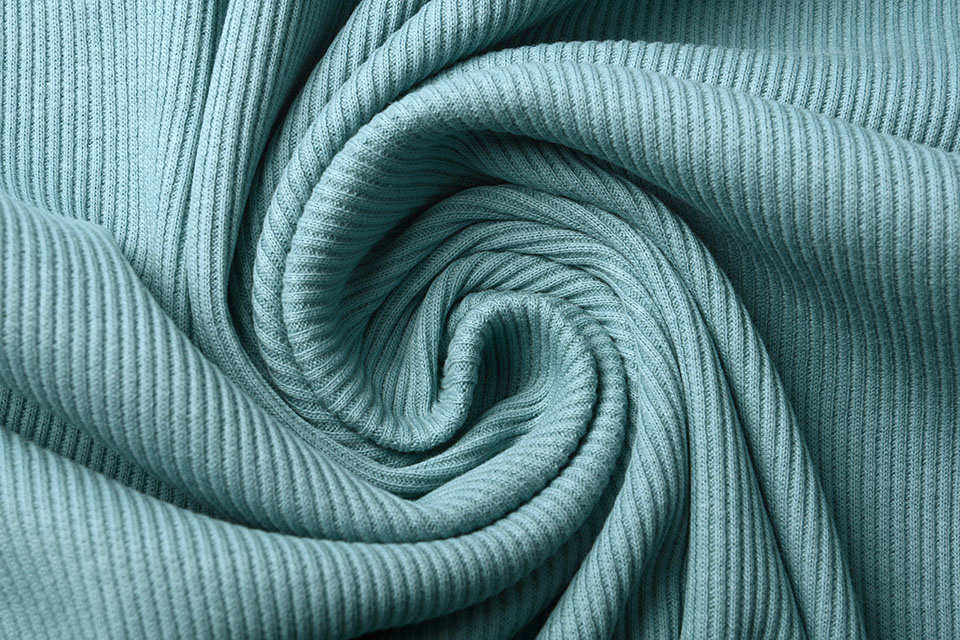 What is jersey knit fabric?
Knit fabrics is one of the most popular fabrics among women's knitwear. Coco Chanel herself preferred to wear suits made of knit fabrics, and for almost a hundred years jersey knit fabrics has stood on the foundation created by this great designer. "Noble knitwear" is the second name of this fabric stretch.
Jersey knit fabrics have changed a lot over the years. Initially, knit fabric was made from the wool of sheep that lived on the island. It was a purely woolen, dense and unremarkable fabric, which was not particularly popular.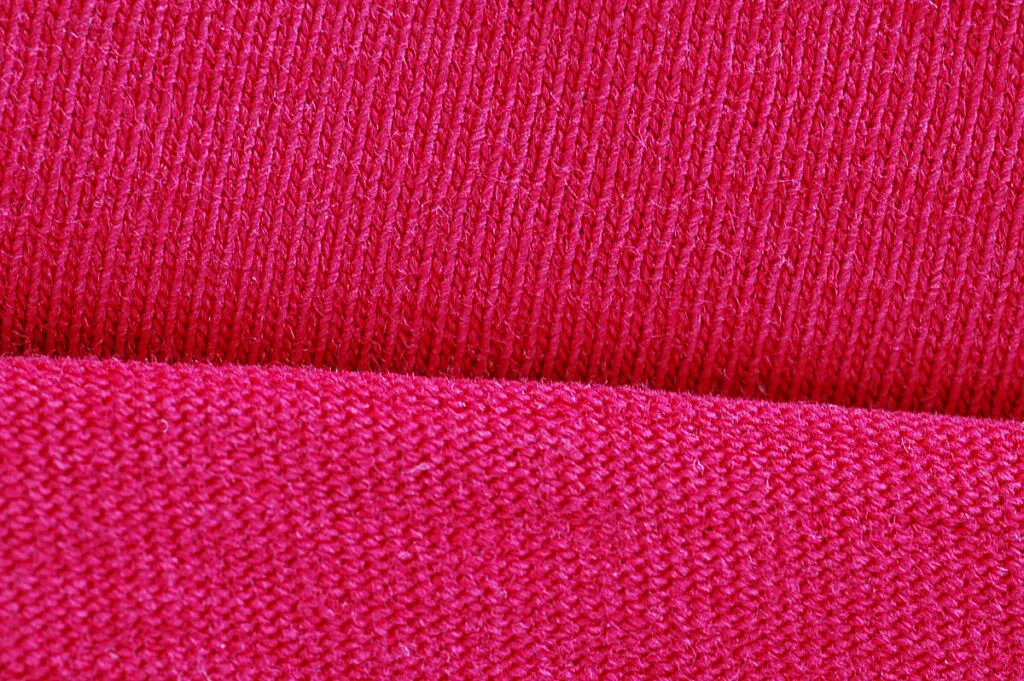 Now, jersey knit fabric is made from cotton, silk, linen and wool. All these components helped jersey knit fabrics to be universal. Due to its diverse composition, knit fabric is used for tailoring suits, trousers, dresses, skirts and outerwear.
Jersey knit fabric has its main characteristics, namely:
The fabric holds its shape well and almost does not wrinkle. Knit fabric is very unpretentious in wearing, even after squeezing in the washing machine, jersey items are very easy to iron and return to their original appearance.
Polyester jersey is incredibly soft and very pleasant to the body. Despite its composition and the fibers included in the composition, jersey knit fabric production technology allows it to always remain a very pleasant material.
Elasticity and good extensibility. Things made of fabric stretched, but at the same time retain their original shape and appearance.
Sewing tips: How to work with knit fabric jersey?
Jersey fabric is quite simple and very popular material. Many factories where clothes are sewn use jersey fabric precisely because of the ease of working with it.
Jersey fabric stretches and drapes very well, thanks to these properties you can create beautiful and intricate outfits with little effort. You can create products using domestic sewing machine.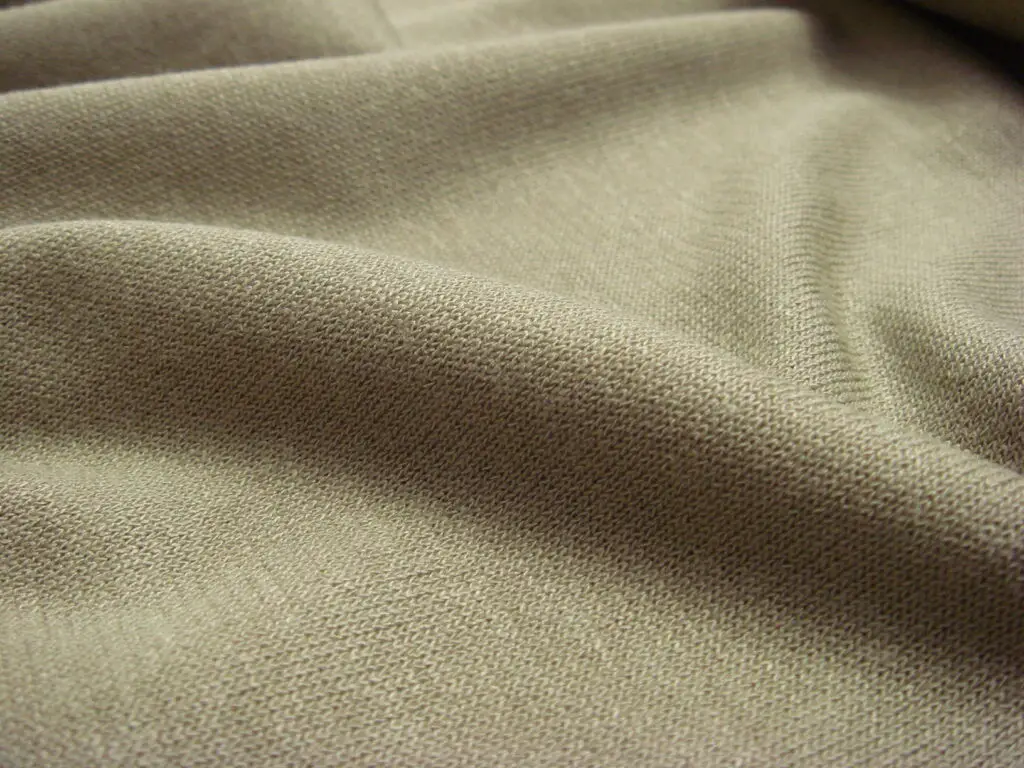 Also, the jersey fabric is very easy to process, it does not fray. The work may require walking foot and twin needle.
Thanks to its easy dyeing, jersey fabric can be dyed in many colors, which also allows it to be just as versatile. Don't forget to adjust the presser foot pressure.
The main types of knit fabric
Italian jersey is considered the most elite type in sewing jersey. Italy, as a manufacturer, always monitors the quality of raw materials for production.
Italian jersey is a weightless, light and pleasant to the touch fabric. Previously, Italian jersey was used only for sewing underwear, but thanks to the great Coco Chanel, who sewed the entire collection with jersey, this fabric became known all over the world.
Now the scope of sewing jersey is very large. Italian jersey is used for tailoring the most expensive underwear, blouses, sweaters, cardigans, suits, skirts, home clothes and other products.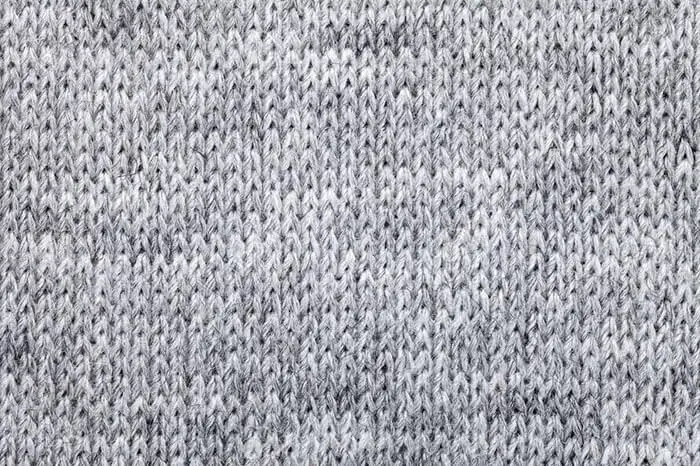 The color scheme of Italian jersey fabric is striking in its diversity. By adding the highest quality dyes to its composition. The fabric acquires unique shades and at the same time is completely safe for human health. In addition, fabric is stretched due to its unique properties.
Turkish jersey has long been known as one of the highest quality fabrics on the market. Due to the fact that Turkey is rich in raw materials necessary for the production of jersey fabric, the price of Turkish jersey is lower in comparison with fabric made in Italy, and this is its unconditional plus.
Based on customer feedback, it is precisely because of the ratio of quality and price that Turkish jersey is now so popular among large clothing manufacturers.
Turkish jersey is a quality jersey, lightweight and very soft. In appearance, Turkish jersey is in no way inferior to more expensive fabrics.
The smooth surface and density makes it look expensive and luxurious. Turkish jersey is characterized by such qualities as: softness, low wrinkling, elasticity, lightness and density.
Turkish jersey is suitable for sewing all kinds of clothes for men, women and even children. One of its qualities is also durability, it is suitable for daily wear.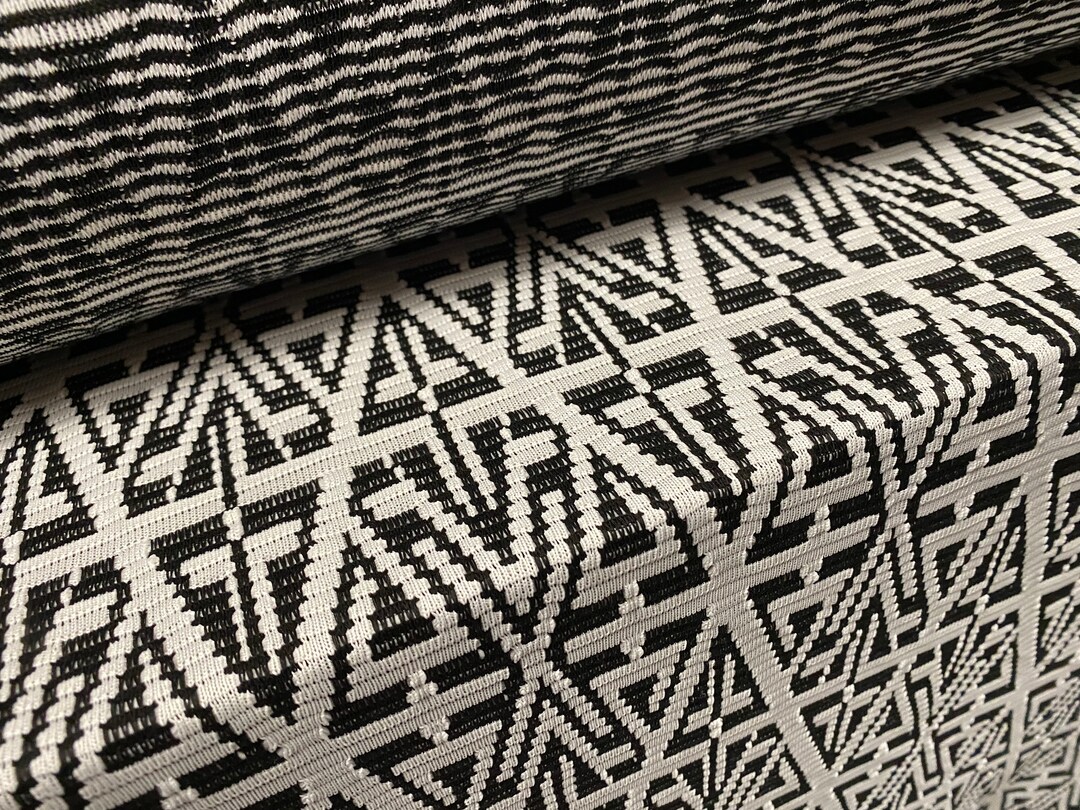 Advantages and disadvantages of sewing jersey
Jersey fabrics would not be so popular among clothing manufacturers if it did not have a large set of advantages. Since its composition mainly includes natural fibers, it is almost devoid of shortcomings.
The advantages of sewing jersey are:
| | |
| --- | --- |
| Environmental friendliness | In an era of healthy eating and the fight for the ecosystem, the all-natural composition of fabric makes it even more attractive among all lovers of nature and eco-friendly destinations. |
| Breathability | This characteristic of lightweight silk especially valuable for manufacturers of children's clothing. Jersey fabrics and things from it allow the body to breathe, clothes do not soar the body at all, do not create unpleasant sensations. It is simply irreplaceable for summer clothes. |
| Wear resistance | Knit fabric, due to its elasticity and extensibility, does not lose its shape at all even with daily wear, does not stretch after washing, and also does not take spools. |
| Soft and pleasant to the touch | Very many jersey conquers precisely with its softness. Jersey items are very pleasant to the body and are not noticeable at all. |
| This fabric is easy to care for | Jersey items can be washed both by hand and in the washing machine, and then ironed. |
| Jersey is very easy to drape | Due to its softness and elasticity, beautiful smooth waves are formed during drapery, without creases and special ironing. Walking foot and twin needle can be used with this fabric. You can learn more about this thanks to tips for sewing. |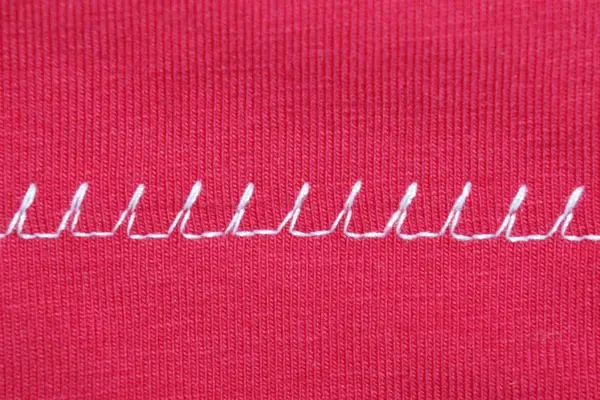 Like any fabric, jersey also has flaws, but basically they are noticeable only if the composition includes low-quality synthetic raw materials. In this case, you can observe the following disadvantages of sewing jersey:
| | |
| --- | --- |
| Deformation | Warping may occur after washing if high temperatures have been used or after ironing. |
| Allergic reactions | If the composition includes synthetic fibers or low-quality dyes were used, all this can cause unpleasant allergic reactions in both an adult and a child. |
| May take a long time to dry | Jersey quickly and well absorbs moisture and, due to its density, can retain water in the fibers of the fabric for a long time. |
Where are sewing knits mainly used?
The sewing knits area is very large. Probably in all branches of light industry it is used. Most of all, jersey is in demand among clothing manufacturers.
Women's clothing: Here you can start listing the entire women's wardrobe. Women's dresses are sewn with jersey (both casual and evening options), skirts, of course suits, jackets, trousers, pants. Due to the fact that the fabric stretched, this material is very comfortable and practical.
Men's clothing: For men's wardrobe, jersey is used when tailoring suits, trousers, sweaters, raglans. In this case, you need to get a walking foot for better processing of the material. Read the tips for sewing carefully to make your sewing process easier.
Sportswear: Jersey tracksuits are very popular. Such clothes are very pleasant to the body, do not constrain movements and allow you to feel as light and relaxed as possible even during sports. Thanks to sewing stretchy, the product perfectly follows the movements of a person and creates a feeling of comfort. Of course, when working with a material, you need to do seam allowance, sometimes stretch the fabric, sew seams, or leave raw edges.
Sleepwear: Nightgowns, pajamas, Tshirts – all this is also sewn from this fabric. Such clothes do not soar, do not create discomfort and allergies. In this case, straight stitch and twin needle are used.
Underwear: Panties, T-shirts and bras. The seams on these products resemble zig zag. This makes them durable and provides easy sewing knits.
Baby clothes: Due to the good natural composition, jersey is often used in the production of children's clothing. The clothes turn out to be very soft and comfortable, do not create a greenhouse effect and are as environmentally friendly as possible – all this is the most important nuances that every mother pays attention to when choosing clothes for her child.
Sewing tips and material care
Jersey items are practical and comfortable to wear and completely unpretentious in personal care. They are perfect for daily use and are well tolerated by active wear. But, like any clothing, jersey clothing has its own care instructions.
It is clear that each specific thing has its own care characteristics and they can most often be found on the tag or label on the wrong side, but there are also general recommendations, namely:
Jersey items can be washed both in the washing machine and by hand, but it is desirable that the water temperature is 30-40 degrees, this will help preserve the brightness of the colors and will not damage the fabric.
Can be spun as the jersey fabric is quite stretchy, even after being machine spun or turned inside out, things will look good and won't always need to be ironed.
You can iron things made of jersey, but it is advisable to use a steamer or iron the necessary thing through gauze.
For washing, you can use both dry and gel powders, but preferably without an aggressive environment and bleaches.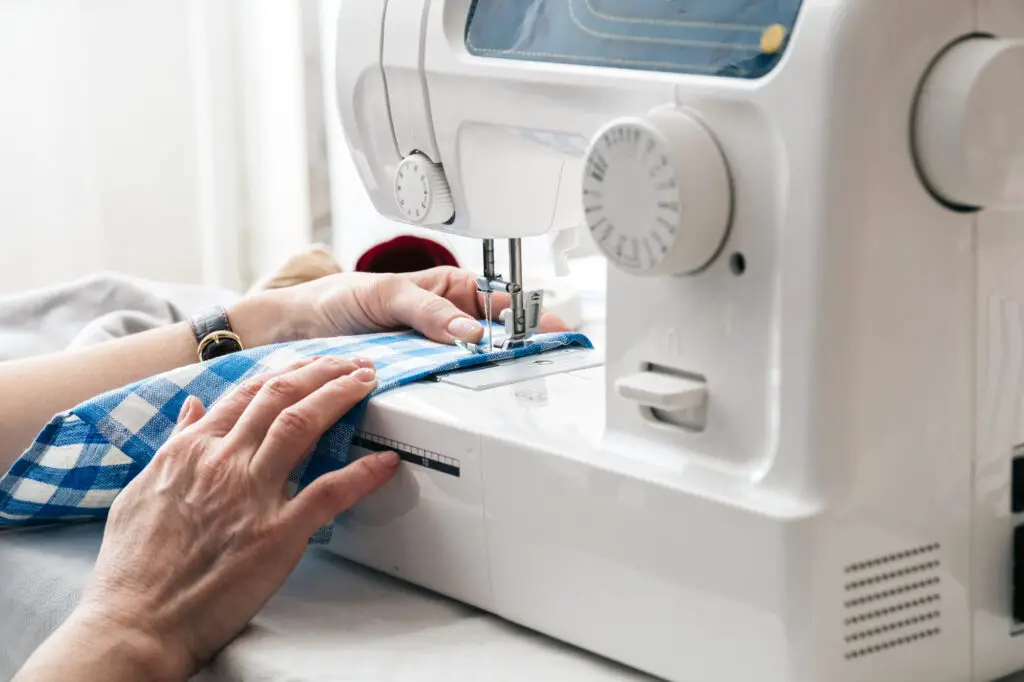 Sewing tips: everything you need to know about sew knits
Knitwear has long been a classic and takes pride of place in the wardrobe of many women and men. A big plus of knitted sweaters, dresses, tunics is that they are ideal for everyday wear, as well as for going to work, to a restaurant or to any celebration.
Knitted jersey: What is it?
Knitwear is a knitted fabric, the structure of which is formed by loops intertwined with each other. Knitted jersey is most often created from wool or cotton threads. Sometimes the composition of the canvas includes synthetic and artificial fibers.
Such clothes are a great addition to the image in the cold season, especially in winter. It does not restrict movement, comfortable to wear, pleasant to the touch, gives comfort and coziness. In addition, knitted jersey is practical, beautiful appearance, inexpensive price.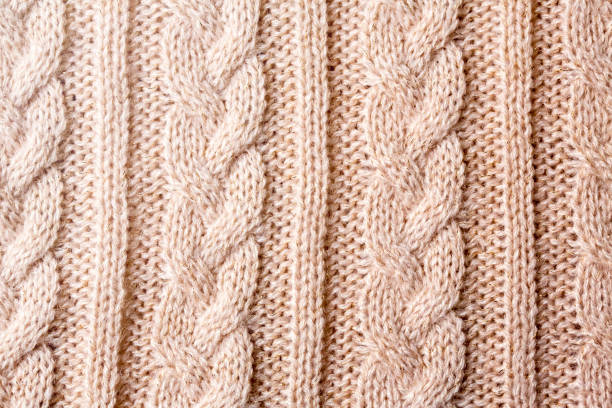 How to cut knitted jersey?
Knitted jersey is quite difficult to process and in order to properly sewing stretchy any product from it, you need to know a number of subtleties. And the first thing you should pay attention to is the cutting rules and seam allowance.
To begin with, the jersey is laid out on a flat surface with the front sides inward. It is important that the bottom edges point in the same direction. Do not stretch the canvas, as distortions may subsequently occur.
The knitwear is cut from top to bottom. To determine the top and bottom of the canvas, you need to find a free thread on the sections and pull it. If it dissolves without much effort, then this is the top. Large-headed pins are best when cutting oversized knits, as they cannot slip through the stitches.
To avoid difficulties when marking lines, you should carefully chop off the details of the pattern with the material and withstand seam allowances (they should be located at the same distance from the cuts).
How to process knitwear?
Sections are best processed with an overlock, as it overcasts them and at the same time cuts off excess fabric. Do not use zig zag stitch, as this can lead to deformation of the product. It is best to use walking foot and do straight stitch.
If you do not have an overlocker, then you can use a crochet hook and threads of the same composition as those used to create the material to finish the edge. You can also connect the necessary parts using hand knitting techniques. But they are suitable only in the case of small, not too dense things.
How to care for knitwear?
Before you start washing knitted items, you need to find out which fibers are included in the composition. If the composition contains silk, cashmere, merino or alpaca wool, we recommend hand washing or dry cleaning. And if the clothes are made with a significant addition of synthetic fibers, or from plain cotton, viscose, wool, then you can use a washing machine, but better with a gentle mode.
Hand wash – clothes should be washed in warm water at a temperature of 30-40 C. Instead of powder, it is better to use special detergents for delicate washing. First, it is necessary to completely dissolve the agent in water and only then lower the product there.
Knitwear with raw edges should not be rubbed hard. Therefore, if there are stains on the clothes, it is better to soak it for 15-20 minutes, and then use a brush with soft bristles. It is necessary to rinse clean products several times, constantly changing the water.
Washing in a washing machine – knitwear is washed separately from other products so that pellets do not appear. You should also fill the drum with things only halfway. On the machine, you need to set the function of delicate washing and select the minimum speed. Temperature regime – no more than 40 C.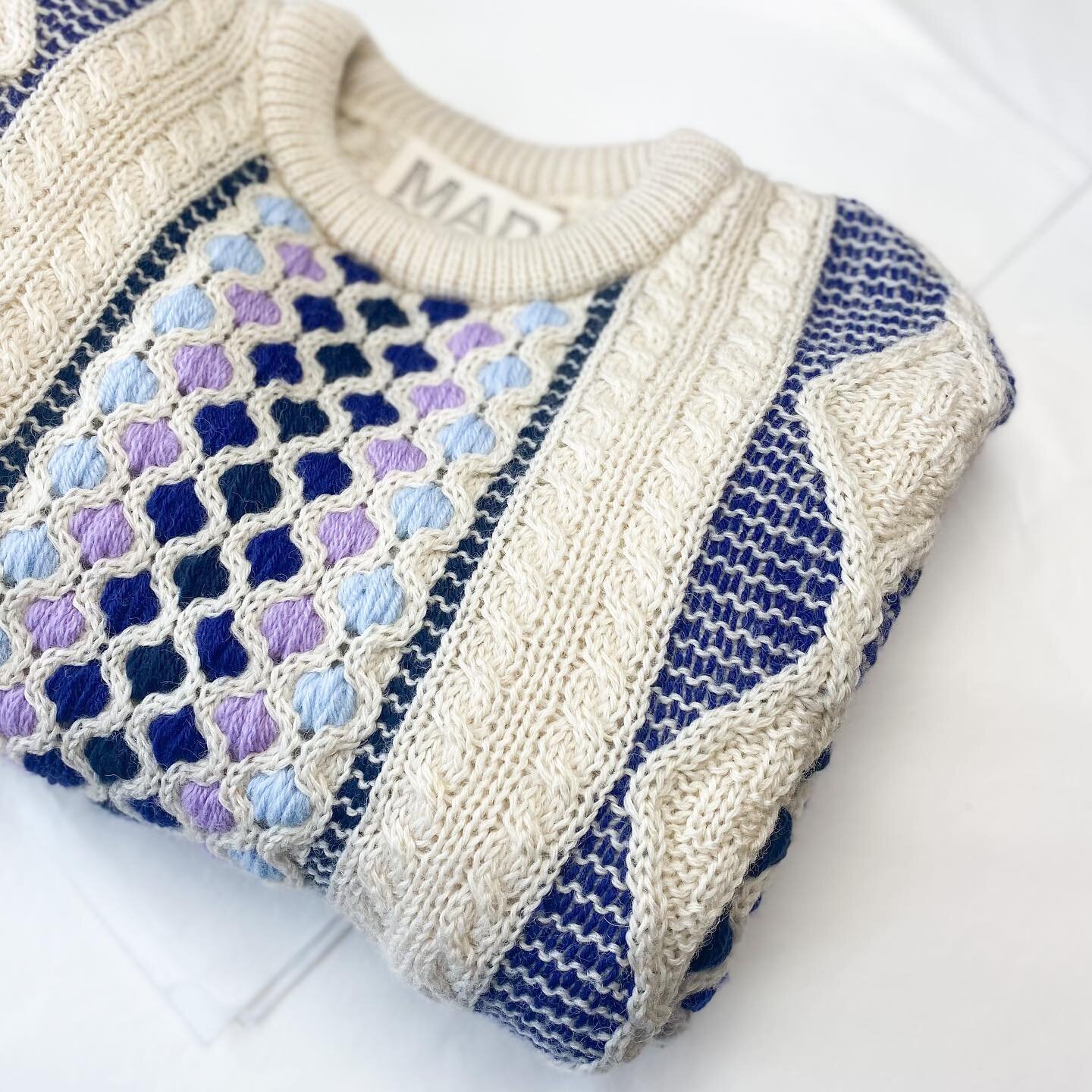 How to sew knitwear?
For sewing clothes, you can use a regular sewing machine and synthetic threads. Also, to make seam allowance you will need walking foot. As for the needle, it must be with a rounded tip (choose needles marked jersey or stretch), such a tip pushes the fibers apart, and does not pierce them. While sewing, it is better to stretch the material a little to maintain elasticity.
If the material stretches too much, treat the seam with starch or lay down paper. You can also use walking foot. If you have a modern machine, use a narrow zigzag, knit, or pseudo-overlock stitch. A straight stitch is also suitable for processing.
Side seams can be sewn with a regular seam without much stretch, as they do not have much stretch. As for the shoulder seams (and the neckline), it is better to stabilize them with a regular braid placed under the seam, you can also use a threaded adhesive tape. This is done so that over time the shoulders do not stretch, retain their shape and length.
To prevent the bottom of the jersey from stretching, a strip of interlining should be glued under the bottom processing line, which will give the bottom of the thing a static shape. Don't forget to use walking foot when working with knitwear.
Many women are wondering – what to sew from knitted jersey? The most popular options are:
warm sweaters;
cozy sweatshirts;
elegant cardigans;
voluminous pullovers;
beautiful dresses and tunics;
suits of skirts and vests.
Such things warm even in the most severe frosts and at the same time look stylish on any person. Complemented with patterns, prints or rhinestones, these products look sophisticated and original.
It can be interesting for you: