Brother Sewing Machine Comparison Chart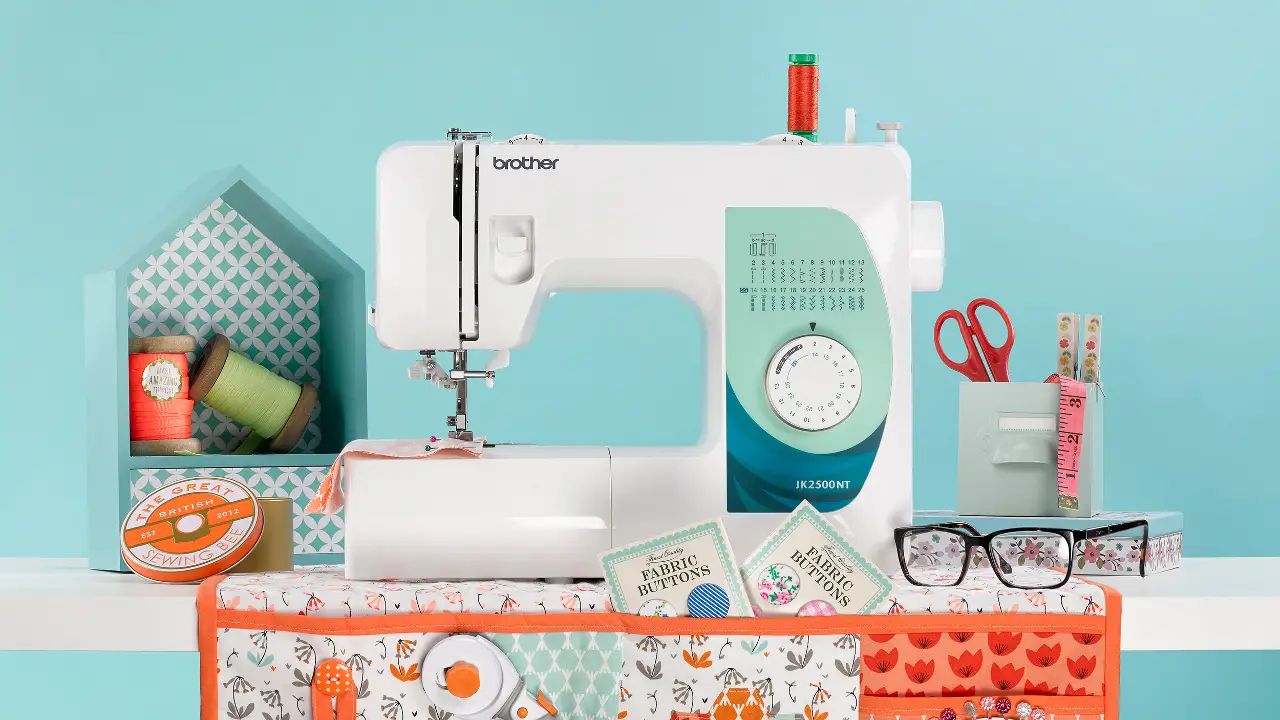 It is prestigious to have exclusive things. Not everyone can afford to order clothes in the atelier because tailoring is expensive. For this reason, self-sewing is becoming very popular. The variety of sewing machine models on the market makes choosing a good one a daunting task. Many people prefer Brother sewing machines in 2022. That`s why we need to know about a Brother sewing machine comparison chart.
Choosing a Brother sewing machine: what they will never tell you about in a store
Any, even the simplest sewing machine can help you create a masterpiece. In the end, the era of the great couturiers fell in the second half of the 19th – early 20th centuries, when sewing machines only came into use and were quite simple.
At the same time, it is foolish to deny that a good and properly selected sewing machine saves the time, effort, and nerves of the master. How to make the right choice, not get lost in a huge number of companies and models, choose from the list of functions that you need, and not pay too much?
Let's try to figure it out. To get started, decide exactly what you need a sewing machine for. You just want to have it on hand so that you can shorten too long trousers on your own, without running to the atelier every time, sew up a jacket torn by a child and hem a new curtain, and you are unlikely to aim for something more?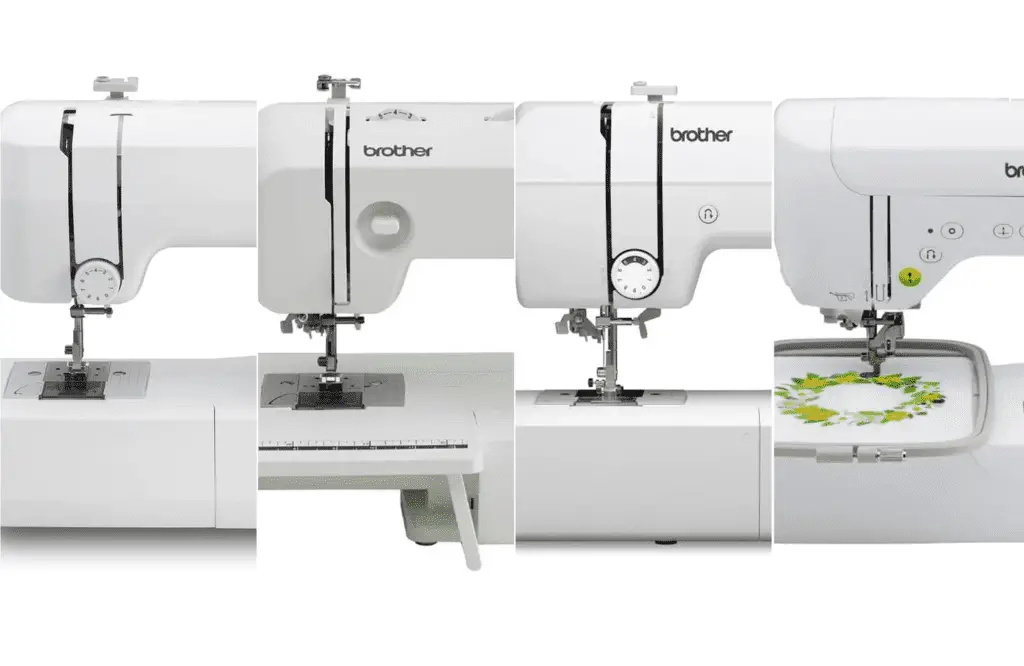 Maybe you have a desire to sew carnival costumes for children – or are you determined to take care of your wardrobe? If you are going to sew, then what? Summer dresses made of light fabrics, or coats and harsh jeans? Or maybe mostly tuned to knitwear? Having decided, you can begin to choose the model that is optimal for your purposes.
About the Manufacturer
Brother's history officially began in 1908, when the foundations were laid in Osaka, Japan, in a small family workshop where they repaired sewing machines. Now it is a large multinational company with numerous offices around the world.
Under the Brother brand, a wide range of household appliances and printing devices is produced. The Japanese company is a severe rivalry with manufacturers of sewing machines. The Brother machines, both household and professional, are bestsellers.
Unlike many other manufacturers, Brother regularly expands its lineup. These Japanese mechanical machines combine a large number of functions with a comparatively simple design. The company's priority is the high quality of products, the expansion of its operations, and excellent service. Read more in brother sewing machine reviews.
Types of Brother sewing machines
All Brother sewing machines are divided into industrial and household. Usually, a household one can do a lot of things at once, and an industrial one can do one thing – but it can do this one thing very well and for days, years, kilometers – without breaking. At least that's the idea.
However, industrial other sewing machines are unlikely to interest you, unless you intend to open a small sewing enterprise – they are very expensive, bulky, and noisy in operation – so in this material, we will concentrate on household ones. Household other sewing machines are divided into:
electromechanical;

computerized machines;

quilting machine;

sewing and embroidery machine;

embroidery machine;

overlocks sewing machine;

cover sewing machine;

cover locks sewing machine.
What does it all mean, and which new sewing machine category to choose?

Electromechanical sewing machines
These are the simplest sewing machines of all. The entire internal filling of such a sewing machine is mechanics, that is, levers, shafts, and gears. Electric is only the engine that sets it all in motion.
The undoubted advantages of this type – are reliability, low price, and inexpensive repairs in the event of a breakdown. Conventional electromechanical sewing machines are inferior to computer ones in terms of speed and number of functions since the technological features of the design do not allow sewing complex shapes, but they are perfect for beginner seamstresses, or those who want to have a reliable assistant for small household needs.
Computerized machines
This is a solid choice. These models are distinguished by the presence of a computer board that carries out the general management of the process, which allows this type of machine to carry out rather intricate stitch programs. Such a device is ideal for those who are looking for a lot of stitches.
The movement of the needle relative to the tissue in them is controlled by a microprocessor. What a particular model can do depends on the amount of memory and the number of programs of this machine's "brain".
Sewing and embroidery machines
Everything is simple here, unlike industrial embroidery machines, which, can only embroider, such combines often combine two functions.
Cover sewing machines
Designed to make an elastic flat seam used to close the hem section of the edge of a knitted product. All this complex verbal construction refers to the seam that you can see on the hem and sleeves of almost any T-shirt.
Overlock sewing machine
This is a sewing machine with one or two needles, equipped with a trimming mechanism and designed for overcasting the edges of a wide variety of garments. When choosing an overlocker, first of all, you should focus on convenience when refueling and sewing projects.
We should also not forget about the possibility of overcasting with a different number of threads. Most overlockers perform 3- and 4-thread overcasting, suitable for most fabrics, and rolled overcasting.
Coverlock
This is a relatively new invention with which many are not particularly familiar. This name was invented by Pfaff marketers for their range of such mechanical machines and patented them, after which it became firmly established in everyday life.
It combines the word "overlock" and the English term cover stitch, that is, "covering" or "closing" stitch. This sewing machine can perform both overcasting of garments, and flat seams and a straight chain stitch, that is, it combines an overlock and a cover stitch machine. This machine is a solid choice for sewing.
Criteria of choice
When choosing a Brother sewing machine, the following points should be taken into account:
What materials are you planning to work with for sewing projects? If this material is thick, you need to buy a powerful model with a distance adjustment between the foot and the plate.

Optimal dimensions and power. Ergonomics and small size are distinguished by computer machines. The power at which the devices operate is from 45 to 80 watts.

Body material. The equipment has a metal or durable plastic case.

Speed. Household machines perform 800-850 stitches per minute, and professional ones – 1300.

Shuttle type. They are horizontal and vertical. The first ones are built into the case and form a 7 mm line. The second – more simply coordinates the tension of the thread.

Equipment. The kit includes presser feet, an embroidery attachment, a frill device, a combination stitch function, and a needle threader.

Many operations. Economy class machines perform from 10 types of lines, computer – up to 150, electromechanical – from 40.

Many stitches. Such a device is ideal for those who are looking for a lot of stitches.

Master's skill level.
Brother sewing machines are equipped with built-in stitches for sewing knitwear, sewing decorative stitches, sewing elastics and hem, embroidery, larger projects, and quilting.
Some nuances of choice
Computerized models work faster than electromechanical ones and are equipped with a large number of functions. In the conditions of an atelier or an average level of private clothing production, they are simply irreplaceable. For home use, advanced machines with an electromechanical drive are more suitable.
Even the simplest of the best Brother sewing machines are capable of working with both wool and silk. Powerful devices with needles for thick seams are necessary when working with denim, leather, and suede.
Electronic models of sewing projects are indispensable when it is important to have options for embroidery, basting, decorative stitching, and seam processing. For such work, such new sewing machine models are equipped with special programs. Such a device is ideal for those who are looking for a lot of stitches.
An important criterion is the balance and smooth functioning of the pedal. Equally important is the power of the engine.
With a light quilting machine, it is comfortable to work at home. Heavy devices have more features and are more suitable for production.
The best Brother sewing machines
Brother JS-100
Model JS-100 is a computer machine. It is equipped with an LCD, which has all the information you need for a sewing machine. The price of such a model is higher than electromechanical machines. Such a device is ideal for those who are looking for a lot of stitches. The features:
formation of loops in automatic mode in 1 step;

quick threading from below;

automatic bobbin winding;

horizontal shuttle;

spacious side table;

presser feet;

built-in stitches;

pun intended;

automatic needle threader;

"Free sleeve";

sewing with a double needle;

Illumination with a dual LED lamp;

stitch selection;

quilting;

switching positions of the conveyor combs;

foot pedal;

many accessories;

power – 40 watts.
The number of sewing operations is 70. It is possible to configure the device to sew from fabrics of different thicknesses. The machine performs both simple and complex stitches. On its body, there is a line switch.
Brother LX1700S
LX1700S is electromechanical of the best Brother sewing machine. This model works with different fabrics. This is a great inexpensive option for an assistant in the restoration of clothes, creating simple things for the home. It is simple in settings, has 17 useful lines, and is equipped with:
Equipment
horizontal shuttle;

sewing function in two directions: forward / backward;

automatic bobbin winder;

LED lighting;

automatic needle threader;

buttonhole adjustment;

foot pedal;

presser feet;

built-in stitches;

machine free arm;

wide table;

walking foot pedal;

stitch selection;

many accessories;

fabric stitches;

feature-rich;

automatic needle threader;

"Free sleeve" function.
The horizontal shuttle device works silently, it is possible to quickly change the bobbin thread. The machine sews in two directions. The change can be made with the sewing vector change button located on the body.
Equipped with an LX1700S sewing machine at a minimum:
universal foot;

walking foot;

foot for zipper and buttonhole;

three bobbins and the fourth in the shuttle;

a set of universal needles;

pedal.
By sewing machine medium and thin materials, a gear rack of an improved design can be realized.
Brother INNOV-'IS 10
Among the affordable electronic Brother sewing machines for beginners, the Brother INNOV-'IS 10 is the best model. Although it is multifunctional, it is easy to use. Carries out 16 operations. To set the line, just use the switch and the display. The change of paws is automated.
The main features of the sewing machine include:
the presence of an LCD;

sufficient, as for beginners, an assortment of lines;

machine simple control;

automatic needle threader;

free arm;

presser feet;

built-in stitches;

maximum stitching speed;

double-needle;

work without a pedal;

quilting stitch;

the presence of a double needle;

fabric stitch;

large selection of accessories;

the presence of a sewing adviser.
Judging by the reviews, there are a few cons:
the needles in the kit are not particularly sharp;

presser foot pressure is not adjustable.
Brother Universal 17
The best Brother sewing machine is powered by an electromechanical drive that drives the flywheel. This model has many features, including a large number of accessories and a variety of crafts. The device is relatively inexpensive and compact. When you press the foot pedal down, you can scribble at a higher speed. Such a device is ideal for those who are looking for a lot of stitches.
The device is equipped with an upper threader. There is a stitch parameter control, which makes it possible to create different zigzag seams. The presser foot can rise to 9 mm, so even thick fabrics folded in half pass through. The number of stitches – is 17. With this sewing machine model, you can make many stitches. Other features:
shuttle – horizontal;

automatic needle threader;

embroidery designs;

free arm;

wide table;

blind stitch – 5 mm maximum;

drop in the bobbin;

quilting stitches;

max speed – 800 stitch selection;

advanced machines sleeve platform – available.
Brother Classic 40
The Brother Classic 40 is an electromechanical model ideal for knitwear. Elastic stitching fits flawlessly on a jersey, interlock, and cooler. The puncture force stabilizer contributes to the good quality of sewing dense fabrics.
Features
the number of operations performed by the machine – 37;

automatic execution of loops – available;

stitch parameters – 5 x 7 (length, width, respectively);

sleeve platform – available;

automatic needle threader.
The mechanics of the best Brother sewing machine is reliable, the price is affordable. Work is smooth and quiet with this embroidery design sewing machine. This model has many features, including a large number of accessories and a variety of crafts. With this sewing machine model, you can sew many stitches.
Brother X-10
This electromechanical Brother sewing machine went on sale in 2016. It has an extended set of functions and works with all fabrics. Equipped with a horizontal type rotary shuttle, performs 17 types of stitches. The best option for both sewing and repairing things. With this sewing machine model, you can sew many stitches.
The model consumes 50 watts. The speed is regulated smoothly, the working surface is well lit. Sews at a maximum speed of 750 stitches per minute. It is possible to turn off the fabric feed mechanism. The puncture force is regulated using an electronic stabilizer.
As sewing machine disadvantages can be noted:
the walking foot on the fabric is not regulated;

LCD screen;

presser feet;

intermediate sewers;

LED light;

affordable price;

stitch selection;

no upper fabric conveyor;

many accessories;

there is no function of sewing in several directions.
Ease of operation allows the Brother X-10 to be used by beginners to learn sewing machines and experienced craftsmen. This model has many features, including a large number of accessories.
Brother RS-100
Model RS-100 is an entry-level electromechanical Brother sewing machine equipped with a horizontal hook. Works with all fabrics and makes 14 types of stitches. With this sewing machine model, you can make s many stitches. Ideal option for beginners.
Sewing Machine Capabilities:

semi-automatic buttonhole;

wide table;

free arm;

line width / length – 4 and 5 mm, respectively;

stitch length is adjustable;

LCD screen;

presser feet;

feed dogs;

best embroidery sewing machine;

walking foot;

built-in stitches;

backtrack stitching is carried out employing the reverse key;

large quilts;

top bobbin;

many accessories;

hard case

work with a double needle is available;

"Free Sleeve"
The power consumption of the machine is 66 W. There is a carrying handle. The design is comfortable and compact. The kit includes a set of universal needles, bobbins, and 3 paws – universal, for sewing in a zipper, for making buttonholes. There is a darning plate.
Brother CX5
This is one of the best Brother sewing machines with the functionality necessary to perform simple operations. With its help, you can sew a zipper, repair things, and process seam sections with a zigzag line.
Reliable mechanics and the presence of a horizontal shuttle allow the mechanisms to work quietly and smoothly. The presence of a platform for sewing in a circle makes it possible to easily hem trousers, and accurately perform other similar operations. With this sewing machine model, you can make many stitches. This model has many features, including a large number of accessories and a variety of quilts. Main features:
number of sewing operations – 2;

shuttle – horizontal;

own garments;

stitch types – zigzag, straight;

stitch length – 0.4 cm maximum;

LCD screen;

work speed – 500 st / m;

presser feet;

foot lift height – 11 mm;

lower conveyor – 4-segment;

built-in stitches;

engine power – 40 W;

power consumption – 55 W;

top bobbin;

maximum embroidery;

affordable price;

sewing machine weight – 7 kg.
Brother M-14
This is one of the best Brother sewing machines. The electromechanical model of the sewing machine is available in 14 types of stitches. With this sewing machine model, you can sew many stitches. The features of the project runway tv show, include:
straight lines – 6;

presser feet;

built-in stitches;

making clothes with max speed;

LED light;

hard case;

quilting stitch;

best embroidery sewing machine;

for automatic design of loops – 3.
The remaining lines are zigzag, for hemming the bottom, overcasting the edge, and working with fabrics with special elasticity. To select a specific line, you need to use the switch, which is located on the body. There is also a reverse lever, through which the sewing direction is changed.
The sewing machine is equipped with a horizontal shuttle, LED lighting, and a "Free arm", which allows you to work with products with geometry in the form of a cylinder. This model has many features, including a large number of accessories and a variety of quilts. You can work with fabrics of different textures and densities.
The best Brother sewing machine has the following features:
stitch length – 4 mm;

width – 5 mm;

quilting larger projects;

motor power – 50 watts.
After watching the video, you can make sure that the machine works quietly, the bobbin thread is easy to change.
Consumables for Brother sewing machines
When the warranty period expires or the machine is used very intensively, malfunctions appear or the mechanisms stop functioning completely. Main features:
tightening the material;

breakage of needles;

thread break;

no tissue advancement.
To troubleshoot, you need to buy consumables for Brother sewing machines.
Consumables for a sewing machine are divided into two types:
interchangeable;

combinable.
Parts that have exact, specific parameters can only fit a certain line of sewing machines. Conventionally, they are classified as replaceable, these are:
paws;

spreaders;

needles;

thread trimmers;

shuttles;

teeth;

tissue movers;

bobbins, etc.
They fail due to temporary wear and tear. The second group of spare parts is conditionally combined. They are practical because they are used in different models. With this sewing machine model, you can make many stitches. Features:
engines;

pedals;

internal belts, etc.
This category of spare parts can be faulty due to incorrect use, mechanical damage, and manufacturing defects.
There are Brother service centers in many cities. This allows you to have your sewing machine repaired at a specialized center.
The best Brother sewing machines are an excellent choice for both experienced users and beginners. The simplicity of management will allow you to easily understand the work.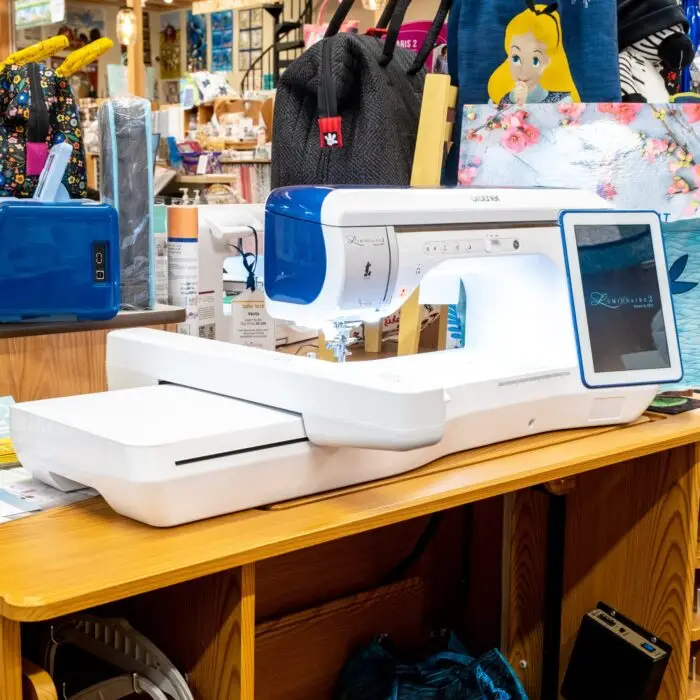 What is the best Brother sewing machine?
When asked what is the best sewing machine brother, there is a clear answer. We should always think about the benefit we are going to give. Most Brat models have many features, including a large number of accessories and a stylish design. One who starts in this field is not the same as another person who has a more professional level. The sewing machines of this brand are varied, so they can be adapted to what we need.
One of those that offer us good value for money is the Brother FS40 sewing machine. This is because it is perfect for both beginners and those who want more professional results. Many buyers mark it as one of the best on the market.
It has 39 types of stitches, as well as 5 loops with one automatic. What's important is that it has the perfect power to keep you going for several hours. It also has an LCD screen and accessories for around 200 euros.
On the other hand, if you need more power, then Brother CS10VM1 Machine will be your best ally. It is considered one of the best cars of 2022. With 40 stitches and an automatic needle threader, and at a price that does not reach 200 euros.
Brother or Janome?
Without a doubt, we are facing two key names in the world of sewing machines. People say that Janome was one of the first to launch a machine with functions that could be programmed. For example, the Janome HD1000 or the Janome ts200q had a great reputation. So we are in good hands where the doses of technology and innovation continue to rise. Therefore, as we saw with Brother, we can say that both options would be ideal. We just have to look at the power of each one, the stitches they offer us, and of course that they have good resistance when we want to use thick fabrics.
Brother or Singer?
We know Brother is working with the Singer brand. Some models of the latter are sold by Brother. So, as they say, everything stays at home.
But is it the same? Brother is slightly cheaper because it reduces both labor and raw material costs. The price/quality ratio is good, there is no doubt about it.
Brother uses more plastic parts when designing their machines, while Singer's sewing machines use metal more often. So the latter will be more persistent.
But it must be said that Brother offers us more types of stitches and is faster than Singer, for the most part. Although that doesn't make it any better.
Hence, Brother pleases us with a lot of possibilities, although we will not use them all. Singer opts for higher quality in all of its concepts and fewer options.
We must clarify that both are more than perfect, but if we realize this, we will again have to choose according to our functions.
Brother sewing machines will continue to be suitable for beginners or those who already have a certain understanding, i.e. low and intermediate levels.
Additional features
Our rating of modern sewing machines demonstrates the preferences of buyers in terms of price and quality. The needs of each owner are individual.
Before choosing a sewing machine, decide which features are necessary for you and which you are unlikely to use.
If you plan to sew textile accessories (covers, curtains) or bed linen, then the presence of an automatic mode for a slotted buttonhole will not be as relevant as for sewing clothes.
For those who often do quilting or darning, the lower feed dog switch will come in handy. In other cases, you can get by with the installation of an additional darning plate.
Work with comfort will be provided by the presence of a needle threader and bright illumination. In computer machines, the speed control on the case and the auto-cutting function (in more expensive models) are very convenient.
Light weight and compactness will be a plus for those who often carry the machine. Heavy models, according to reviews, often do a better job of processing dense fabrics (in terms of stitch quality).
The presence of cards or tables with tips, and built-in advisor programs (in electronic machines) will help beginners quickly master the intricacies of sewing.
Pay attention to the complete set of the model. If you often sew on a hidden zipper, do patchwork, or perform overlock stitches, having the appropriate legs can add pluses to the chosen machine.
It may be worth considering the possibility of expanding the functionality of your equipment. Some electronic models allow you to additionally install a side table or knee lifter, buy an embroidery unit, or a modern additional tool (for sewing in a circle, cutting, drawing, etc.).
On our website, you can get acquainted not only with the main technical characteristics and the rating of sewing machines by price, but also read detailed reviews by independent experts.
Look at real-life performance, noise levels, reliability, and owner reviews to make the best choice for years to come.
How to choose a good sewing machine for your home?
When choosing a sewing machine, you should pay attention to the following parameters:
Parameters
Case material – it should be durable plastic or metal, which will reduce the risk of damage.

Sewing speed – usually there are 3 modes (high, medium, and low speed). It can be adjusted on electromechanical machines using a pedal, and computer control involves setting parameters through a built-in computer.

Shuttle type. The horizontal one has been very popular lately, it provides easy threading, little noise, infrequent maintenance, and does not take much time.

Complete set – additional paws, needles, etc.

The types of lines and the number of operations will ensure the functionality and the ability to use the machine for sewing various things.
On average, the manufacturer offers warranty service for 1 year, but some models have an extended warranty period.
The service life of the device is another important parameter.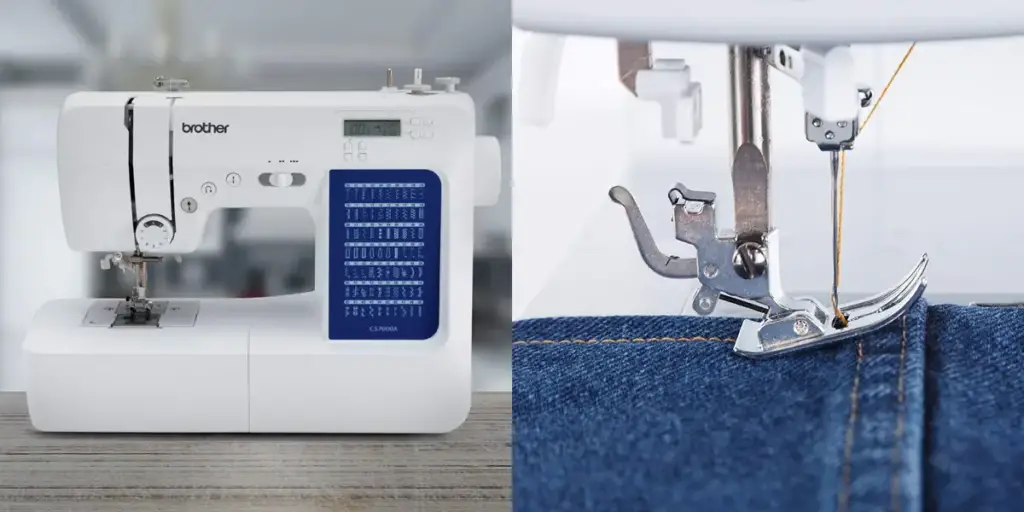 General instructions for use
Before using a Brother sewing machine, you must read the manufacturer's instructions for a particular model, and then proceed with the operation. In general terms, you need:
To study the components, their functions, and adjustment features.

Customize the machine for a specific type of fabric and user skills.

Select stitch type, and size.

Put the material on the work platform.

Lower your paw.

Hold the ends of the threads for the first few stitches. Press your foot on the pedal.

Find the reverse lever, and fix the end of the seam.

Turn the handwheel to raise the needle to its highest position. Cut the thread.
If you want to make clothes you can constantly practice will improve the quality of sewing, so the seam will get better every time.
Opinion on the Brother sewing machines
When it came to choosing a sewing machine, I had my doubts at first. Since many brands offer us great features, I ended up buying a Brother sewing machine.
First, what attracted me the most was the value for money. Since the latter are quite competitive and thus offer us endless opportunities to start in the world of sewing.
When it comes to working with her, it's true that her materials also give you enough confidence to do all kinds of work. In addition, I must say that after more than 10 years of use, I still bet on it.
I have never had any problems with it, and with it, I can complete all tasks accurately and quickly. If I again had to choose a new model among sewing machines, it would be clear that Brother would once again become the protagonist of my house.
Just a matter! Why? Because it is a trusted brand, a brand that has been by our side for decades and only to provide us with the best services. Therefore, you will always be waiting for one, like in my case. Because when you use it for a long time, you may indeed need a little more, but Brother will provide it for you in different models.
You can create large projects with stitch selection, many accessories, quilts, and other mechanical features.
True, in my case it is intended only for basic work, but all needs will be covered by each of the models. Therefore, having so many alternatives is always seen as something positive!