Janome mod 15: Take Your Sewing Game To Another Level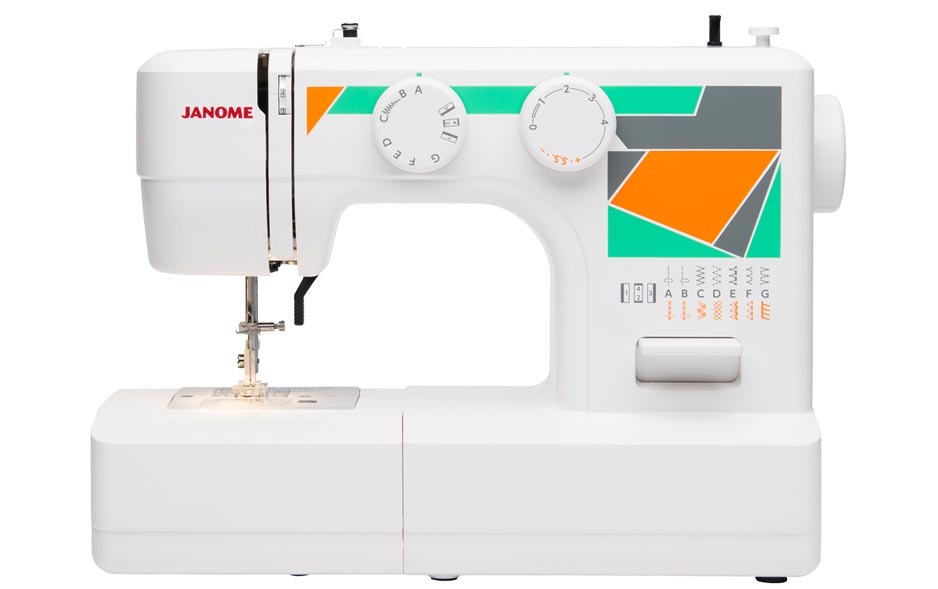 Janome mod 15 sewing machine is manufactured by a popular and old company. Janome complete Mod line is known to be innovative yet effective. The company provides users with both automatic and manual sewing machines. Janome 15 is related to the first one. Although Janome machine requires many manual settings it still has 5 stars and pro features like top-loading jam-proof bobbin system.
Mod 15 sewing machine is a basic model with no automatic features. It makes the machine perfect for beginners and people who don't want to overpay for additional features. Janome price is accessible and reasonable and corresponds to the quality.
The model is sturdy and durable because of its metal frame. What is more, Janome mod 15 is compact, light, and quiet. You can work with the model day and night. However, you may need some additional lighting.
Design of the Janome mod 15 Sewing Machine
Janome mod 15 has laconic design. It looks pretty stylish with its geometric inclusions and classic shape. The model usually goes in white and will be a great fit for any cabinet. Sewers usually give 5 stars to the Janome model design.
Janome mod 15 Accessory Kit
By buying Janome mod 15 new sewing machine you also get accessory storage that includes everything necessary and basic tools like spool holders.
Presser feet are the most important parts of the sewing machine because they hold and control the fabric. Janome mod 15 provides sewists with the essential feet necessary to start sewing:
Zipper foot;
Sliding buttonhole foot;
General purpose foot;
Blind hemming foot.
Using the Janome 15 sewing machine you will have all the necessary accessories at your disposal. The accessory kit of the model includes:
Bobbins (Class 15);
Pack of needles;
Spool holders;
Additional spool pin;
Screwdriver seam ripper;
Instruction manual;
Foot control;
Power cord.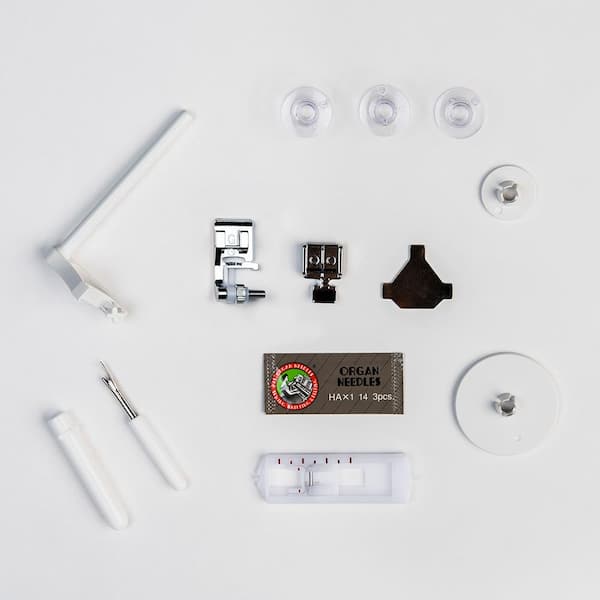 This way you will not need to worry about anything because you have all the necessary tools, at hand. Use the accessory kit following the guide from the manual if you don't know how to use a seam ripper or how to install the presser feet.
Technical Specifications
Janome Mod 15 is a powerful sewing machine with extended features. Let's consider the technical specifications to briefly understand what to expect from the sewing machine:
Adjustable stitch length & zigzag width;
15 Built-In Stitches;
5-Piece Feed Dogs;
Auto declutch bobbin winder;
Drop feed;
Removable bobbin case;
Four-step buttonhole;
Buttonhole opener;
Snap-On presser feet;
Heavy-duty interior metal frame;
5-piece feed dog system;
Specialty needle plate;
Free arm.
Store accessories near the sewing machine to always be able to change bobbins during sewing. The sewing machine allows for adjusting the stitches' width and length for chic and beautiful projects. Janome 15 has the following settings:
Sewing machine weight: 12 pounds;
Sewing machine dimensions: 16″ length x 7″ width x 12" height;
Maximum stitch width: 5mm;
Maximum stitch length: 4mm;
Workspace dimensions: 6.2″ width x 4.2" height;
Maximum sewing speed: 750 stitches per minute.
The mix of the characteristics makes the great machine one of the best models. Let's consider other advanced features of the sewing machine.
Janome Sewing Machine Features
Janome mod 15 which is conquered with power precision and confidence and has great thread tension control is very popular among users and usually receives 5 stars. Janome mods ensure smooth and quality sewing, and many users rate it 5 stars. Janome also has a great bobbin thread supply and makes winding bobbins easy. Many different features make Janome 15 a perfect sewing machine for everyone.
15-Stitches and Four-Step Buttonhole
Customization of advanced projects requires a wide choice of built-in stitches. Luckily, the Janome mod 15 sewing machine provides 15 built-in stitches and one four-step buttonhole. You will be able to create the most amazing and fashionable projects using different types of stitches.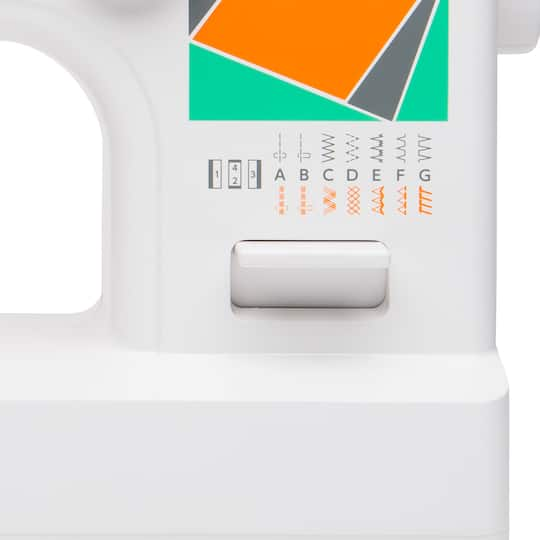 Adjustable Stitch Length and ZigZag Width
The sewing machine makes stitch has an adjustable stitch length feature and makes the adjustment process as easy as possible. Change your built-in stitches, and sew with a maximum length of 4 mm, and maximum width of 5 mm. There is an adjustable stitch length and zigzag width dial that let adjust the stitch length in a few seconds. Make your projects as close to perfection as possible with the helpful dial.
Drop Feed and 5-Piece Feed Dogs
You can practice your favorite quilting and free-motion sewing thanks to the single switching of the lever. The drop feed feature will be useful working with button holes. The feed dogs set the fabric direction. Besides, feed dogs provide even pressure feed.
If you lower the feed dogs they will not be involved in the sewing process. Thanks to the drop feed system the feed dogs will no longer pull the pieces of fabric.
Free-motion is important for controlling the fabric direction and the speed of the sewing machine so that they lay evenly under the 5-piece feed dog.
Top-Loading Jam-Proof Bobbin System
The jam-proof bobbin system of the Janome 15 is perfectly designed to guarantee flawless sewing and to set up sewing quickly. Firstly, you will set up the bobbin to the machine quickly with the help of top-loading jam-proof bobbin system. Secondly, you can see how smoothly the thread is supplied thanks to the clear bobbin cover. The full rotary oscillating shuttle hook with a clear cover works with no noise and moves into one direction.
The full rotary metal hooks don't require less lubrication than the underneath oscillating shuttle hook. That is why the top-loading jam-proof bobbin system gets 5 stars.
Heavy Duty Interior Frame
You will enjoy skip-free sewing thanks to the metal interior frame of the machine. What is best, the strong frame is built to last and protects all the mechanisms from damage. The frame will not get scratched itself.
Besides, you can transport the sturdy machine with no worries. If it is not enough to make you believe that Janome Mod 15 sewing machine is really long-lasting pay attention to the 25-year warranty.
Removable Free Arm & Accessory Storage
The machine becomes a free arm thanks to the removable storage compartment. The free arm is important for sewing small openings like pants hem or sleeves, and the removable storage compartment turns the machine into the free hand. That is why it is very important to look for a sewing machine with a free arm.
Presser foot lifter
The presser foot lifter of the Janome 15 is located on the right side of the sewing machine. It can seem not ordinary for professional sewers because most sewing machines have the presser foot lifter on the left side.
However, it will have no difference if you are beginning and have never used a sewing machine before. Be ready that are sewists machine has a presser foot lifter on the left side.
Pros & Cons of the Janome mod 15 Sewing Machine
The Janome company has been manufacturing sewing machines with 5 stars ratings for over a hundred years. Because of this, the company's sewing machines with top-loading jam-proof bobbin are very popular. Janome machines have an extended warranty and work for a long time without breakdowns. That is why Janome is a great machine conquered with power precision and confidence has many advantages.
Pros of the Janome mod 15
A Large Selection of Stitches
Seamstresses are always looking for sewing machines with a large selection of stitches. Different stitches are needed to apply them to projects of different complexity.
Choosing the right stitch is the key to success. he model allows you to choose from 15 decorative stitches. Users can also customize the length and width so you don't have to worry about running out of stitches for a complex project.
Speed
With this sewing machine, you can quickly work on any project. The machine sews at a speed of 750 stitches per minute, which is an average speed among most modern sewing machines.The machine gets 5 stars for the speed.
Size
The Janome model will be a good choice for people who like compact machines. Mod 15 is good for traveling and transportation as it doesn't take much place. Besides, it easily copes with the road as its frame is made of metal. The model is small and does not weigh much. But the sewing machine is still powerful and works smoothly.
Price
The sewing machine is sold at an affordable price and is cheaper than the improved models. The machine will be a good choice if you are used to more traditional work and can thread the thread manually. The price gets 5 stars and corresponds to the quality, because the machine is durable, has a large selection of sewing stitches, and has an average speed.
With this machine, you can work on any project, but with fewer automatic functions. The machine is considered one of the budget and affordable ones.
Cons of the Janome mod 15
Absence of the Automatic Needle Threader
Threading the needle into the thread can be difficult, especially if the needle has a small eye, or the person has poor eyesight. Therefore, seamstresses are looking for professional sewing machines that have the function of automatically threading the thread into the needle. This simplifies the sewing process. However, this model does not have an automatic threading function. This is one of the major disadvantages of the machine. After all, most modern sewing machines have needle threaders.
Lighting
The sewing machine does not have bright built-in lamps, and because of this, the sewing process will be more difficult. After all, you will need to look for an additional light source, because the sewing area may be dull and you may not see the needle plate perfectly.
Changing the Presser Feet
There is a whole set of presser feet available for the Janome 15. You can use the basic presser feet added to the accessory kit. Advanced sewers also buy additional presser feet to work with new projects. Sometimes it is hard to change the presser feet of the Janome 15. But you can get used to the specifics of the feet-changing process.
Capricious to Different Fabrics
Janome mod 15 will be a good choice for ordinary cotton fabrics. However, the sewing machine doesn't work perfectly with heavy and stretchy fabrics. Mod 15 can miss stitches and work slowly with heavy fabrics. That is why we can not rate it 5 starts for sewers who need it for different fabrics.
Alternatives to Janome Mod 15 Sewing Machine
Janome 15 is a great machine that can serve you for many years, but there are better alternatives with more automatic features. The Janome company manufactures high-quality and popular models that are widely used by many sewists and get 5 stars ratings.
Janome mod 19 is an advanced version of the Janome mod 15 Easy sewing machine. But what makes Janome mod 19 better?
First of all, Janome 19 is more automatic and has more advanced features. However, there are some automatic features. The auto declutch bobbin winder will stop automatically when the time comes The Mod 19 sewing machine is an improved automatized version of the Mod 15. Mod 19 sewing machine has better features than Mod 15. Let's consider them all.
Led Lights
While Mod 15 doesn't have good lighting, Mod 19 has 3 bright light bulbs that provide a good view of the sewing surface. Mod 19 provides a great view and you don't need to turn on the additional devices. This feature is extremely useful for people who usually work in the evening. That is why we give Mod 19 5 stars for the lighting.
Automatic Needle Threader
Most modern sewing machines have automatic needle threaders, as well as Janome mod 19. Thanks to the advanced feature, you will not need to work on threading the needle manually hard. All you need is to follow precise increments and push a few buttons, and the needle will be threaded automatically.
Variety of Stitches
Janome mod 19 has 19 built-in decorative stitches. Yes, 15 stitches library is good, but 19 is better and gets 5 stars. This way you have more scope for creativity.
Janome 19 machine has the same speed and the same stitch adjustable and is more automated. However, the Janome mod 15 is cheaper and simpler.
How to Order the Janome 15 Model?
All of the Janome machines are pretty popular including Janome 15 and have 5 stars ratings among users. You can find many shops that provide users with the shipping and reason price. There is also a returns shipping policy that will guarantee you can return the product if it has not been shipped of the appropriate quality. Item ships with included accessories and Janome machine itself.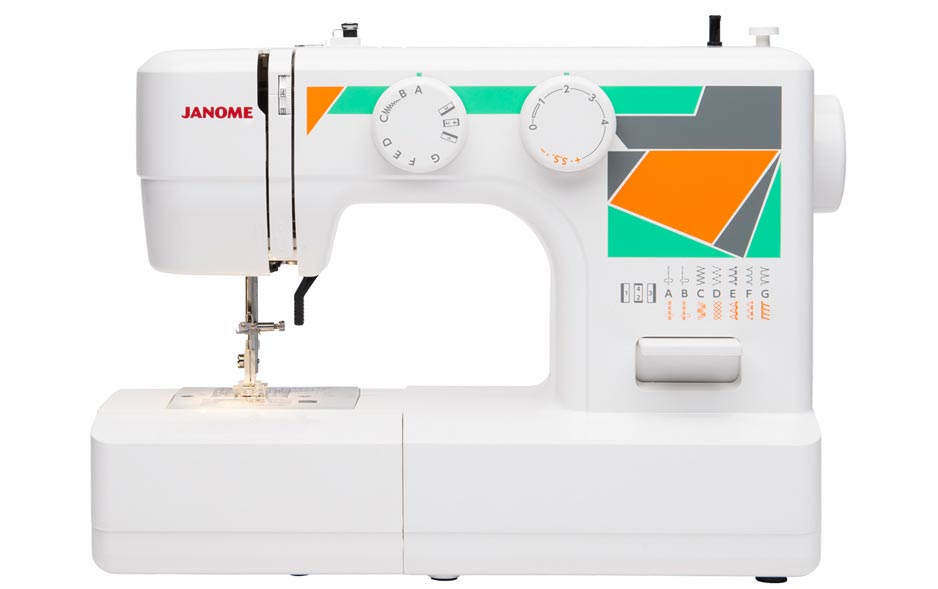 The Janome MOD-15 is the perfect mechanical machine for making colorful children's clothing and basic home decor items. The MOD-15 features a four-step buttonhole, snap-on presser feet, and a bobbin winder for basic sewing functions.
You can order the machine on Amazon or from the website of company. Most importantly, you should check the website before ordering the model to be able to return the item in case of damage. You should look for the 5 stars reviews from real people. Pay attention to the long and detailed reviews because they are usually real.
Who is Janome Mod 15 for?
Janome Mod 15 is a great sewing machine, it is durable, fast, and has a free-motion sewing feature. But Janome Mod 15 is more suitable for beginners than for professional sewers. Advanced sewists tend to choose more modern models with many additional features like auto declutch bobbin winder. However, some people say that they take advantage of the basic set of tools. First of all, there is no need to overpay for the features you don't use. Because sometimes even experienced users look only for the basic tools.
Janome Mod 15 sewing machine is more suitable for new sewers who only learn how to use the sewing machines, and they usually give it 5 stars. Mod 15 model has all the necessities to provide workers with any project. It is good for beginners to learn how to thread the needle auto and change the bobbin. Besides, they will feel no difference using the presser feet lever on the right side. Because experienced sewists may need some time to get used to the machine's design.
Janome model has well-detailed manual instruction that will be extremely useful for everyone. However, many sewists find it easier to simply watch video guides on Janome mod 15. You can find the videos on the official page of the Janome website and the YouTube platform to watch how to use the auto declutch bobbin winder and what is loading horizontal bobbin system. The machine has no extra features that are hard to master and beginners will have no difficulties launching the sewing machine.
The sewing machine is pretty basic and simple with no excessive instruments. This way, you only pay for what you need. Most experienced sewers choose more modern models, like Janome Mod 19, but Janome Mod 15 sewing machine has all the necessities to create new, elegant projects.
Janome mod 15 works quietly and is great for everyday use and for sewing small openings.
Warning
The Janome Mod 15 sewing machine contains one or more chemicals that can cause birth defects, cancer, and other reproductive harm. But it doesn't mean that the sewing machine is dangerous to use. You only need to use it the right way and don't overheat it.
You can be interested: