Janome ts200q – Choiсe of This Year!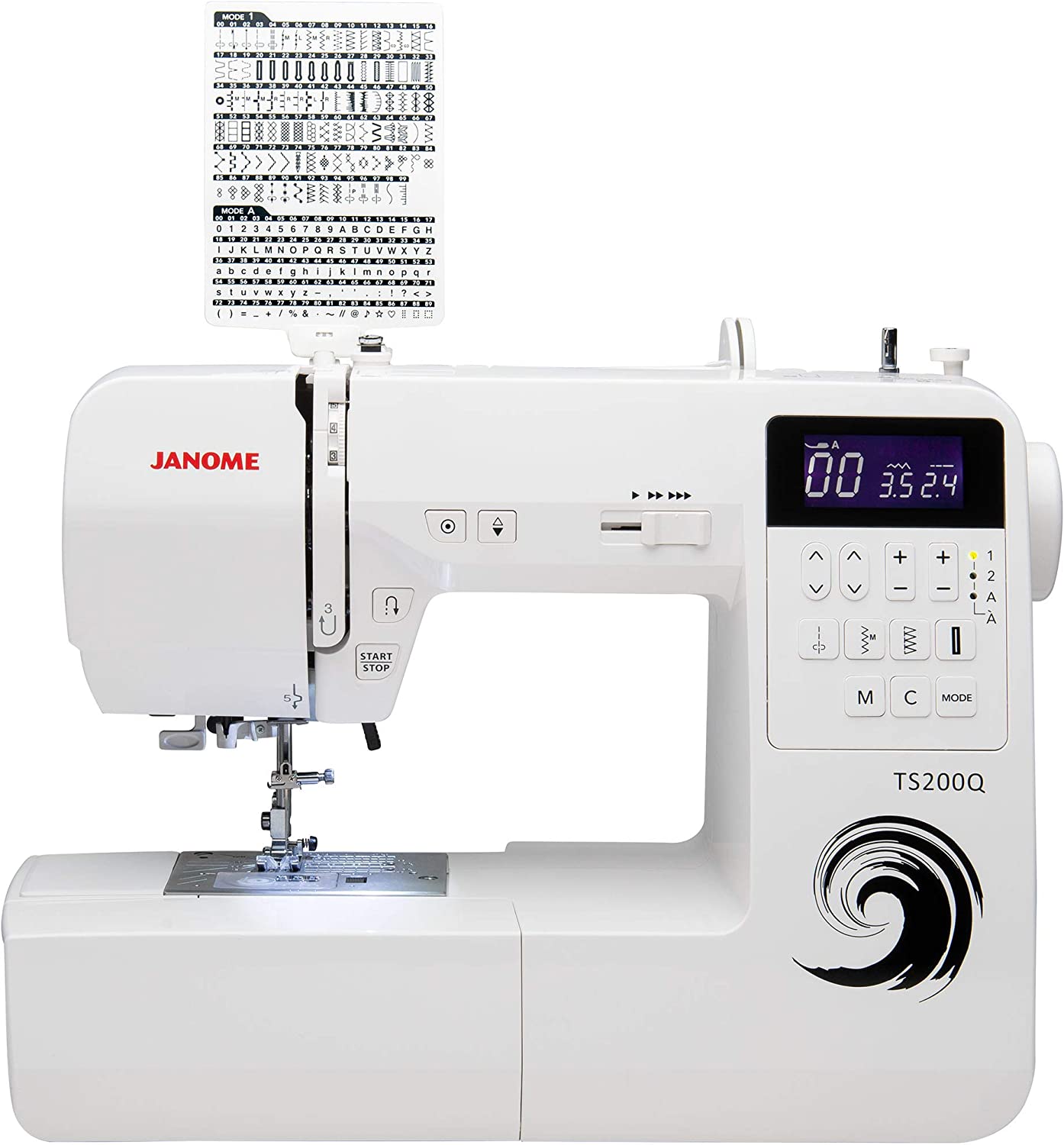 Janome TS200Q is a perfect machine designed to make the sewing process easier. The dual-voltage Janome TS200Q model will help you implement your design ideas in life with no effort. Besides, the model has a reasonable price that corresponds to all its features like a presser foot lift and extension table. Let's consider the Janome TS200Q model in more detail.
Features of the Janome TS200Q Sewing Machine
The model is a great choice for advanced and new sewists who want to create the sew with quality and speed. Janome TS200Q possesses the following features.
Backlit LCD Screen
Working with the TS200Q model you will enjoy using the large LCD screen. You will be able to control the sewing process: choose the presser feet, stitch width and length, and stitch combination. All you need to do is press a few buttons on the Blacklit LCS screen.
Free arm
The free arm feature has been achieved thanks to the removable storage compartment. You can use the default free arm to work with openings of small sizes like a sleeve or the bottom of the pant leg.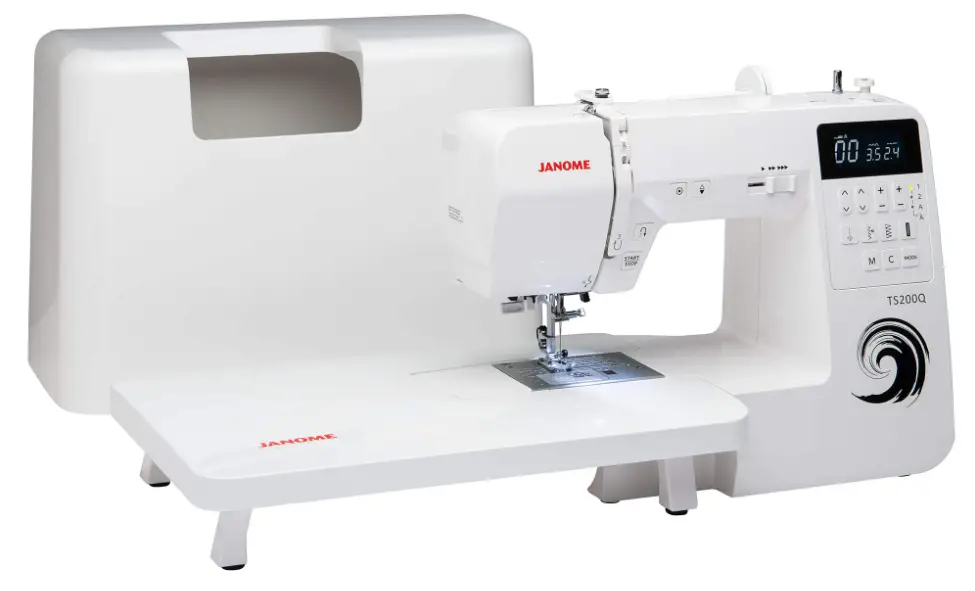 Adjustable speed
Screen editing functions let you control the sewing speed. This way you will be able to set the highest and the lowest speed.
Needle Threader
Built-in needle threader helps a lot. All you need to do is follow the guides that show the sequence of threading the needle. The bright lighting will help you during threading and sewing.
Number of Stitches
The machine provides sewists with 200 built-in stitches. There are also 12 buttholes in addition to the great number of stitches. The Alphabet will be useful for the implementation of creative projects.
Technical Characteristics of the TS200Q
The machine is easy to use tanks to its cutting edge technology, and is equipped with advanced technologies like a built-in needle threader:
Hook type: top loading full rotary hook bobbin;
Thread tension control: manual;
Max stitch width: 7mm;
Maximum stitch length: 5mm;
Feed system: superior feed system;
Easy Reverse Button: available;
Bobbin winding: auto-declutch;
Stitch selection: easy navigation buttons;
Cover: hardcover;
Number of stitches: 200;
Number of buttonholes: 7;
Needle threader: built-in;
Needle Up Down: up as default;
Free Arm: available;
Drop Feed: available;
Locking stitch button: available;
Twin Needle Guard: not available;
Last stitch recall capability: not available;
Knee lift: not available;
Machine size: W 16″ x H 12″ x D 7″;
Machine weight: 12.7lbs;
Workspace: W 6.7″ x H 4.3″;
Auto declutch bobbin winder: available;
Extra high presser foot lift: available;
Button locking stitch: available;
Foot pressure adjustment: not available;
Features Number of Designs:0;
Fonts for Monogramming:0;
Programmable jump thread trimming: not available;
Adjustable speed while embroidering: not available;
Flexible Stitch Travelings: not available;
Adjustable Hoop Positioning: not available.
These characteristics make the quilting machine a good choice for sewing garments and working with creative designs.
What is inside the Quilting Accessory Kit
TS200Q provides sewists with all the necessary accessories needed to start quilting. The accessory kit includes:
Extension table;
1/4 foot;
Needles;
Fabric;
Presser feet;
Bobbins and bobbins threads;
Bobbin cases and holders;
Sewing notions;
Spool pins and caps;
Foot controls;
Power cords.
This way, you can enjoy quilting and sewing without worrying about looking for extra parts and items using the great accessory package.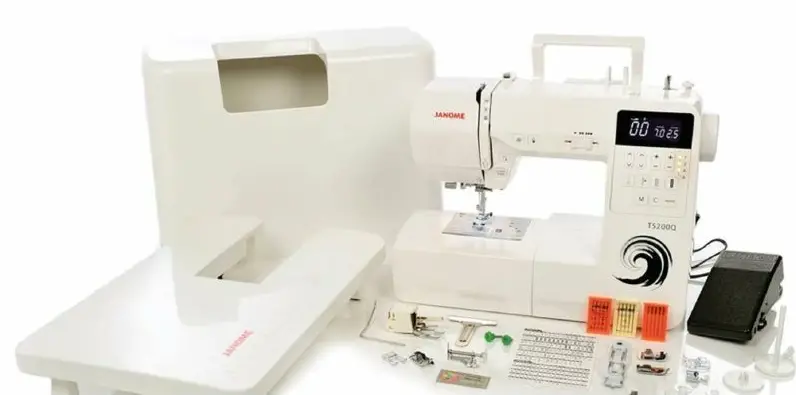 Where to Get the TS200Q Model?
The sewing model is pretty popular among sewists and you can order it from any retail store. However, you should check whether the website is reliable and won't fool the customers. Don't forget to check on the availability of the features like a presser foot lift, extension table, stitch width, and stitch length.
You may also like: